Ok DEVS or anyone, what are the new levels for unlocking uncommon, rare, epic etc.
So the FAQ vaguely says what is needed for assault but it's only for uncommon and rare I think, but what are the levels for all classes, heroes and reinforcements? Because I need to do some math and see if the new update will lock you out of upgrading epic for example because the new level might be increased and I'd rather use crafting parts now while I have epic status available just in case the new level becomes higher essentially

For example for heroes card level 15 will allow for epic upgrading, so will the skill level equal that essentially or will it be higher? Or even lower at that part?
For the Greater Good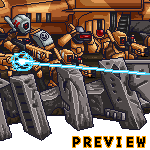 Howdy, Stranger!
It looks like you're new here. If you want to get involved, click one of these buttons!
Quick Links