How to make Every Single Hero in the game Good ⦗Very Detailed⦘
This is strictly my analysis & opinion of how I think things should be in the game.
Feedback for the ⦗VILLAINS⦘⦗Kylo Ren⦘
has some solid abilities, he's a fun hero to play. But he struggles a lot if he doesn't have a team to back him up, unlike heroes like Vader or Darth Maul.
Those heroes don't even really need a star card to be amazing, the cards are just a bonus. He's extremely dependent on his 2 force abilities, which are on painfully long cool downs. He should be able to stand on his own just like Bossk, Rey & Vader can.
Time before Regen starts:
3.5 seconds
Kylo really struggles to survive on the battlefield, he could really use this regen buff.
•
Starcard Issues / Suggestions:
The CLOSING IN star card does not work.
BLOODLETTING FRENZY should kick in at 70% health instead of 25% health. Being nearly dead just for some extra saber damage isn't worth it.
Instead of RESILIENCE star card activating whenever a villain is near, at least whenever 2 other soldiers are near Kylo, it should also boost up his damage while this passive card is on. This card is pretty much only useful in HvV, it'd be great to use it in Galactic Assault.
Possible Emotes / random character quotes he could have:
"Let the past die, kill it, if you have to." "You're still holding on! LET GO!" "You're nothing, but not to me." "You're so right." "TRAITOR!!!"
•
Frenzy Suggestions:
This ability only becomes good if you have the Bloodlust star card, without that card it's absolutely worthless to use. Might as well not even use it at all. I think that the ability should come with at least 3 extra strikes if you don't have the bloodlust card on. Just so that way the ability can actually stand on Its own.
I made A LOT of these, just because of how bad this hero is.
The longer hero paragraphs represent how much I actually hate playing those heroes.
1. Another idea I have for this ability, is that you give it a slight nerf, and what I mean by that is that it shouldn't automatically break a light saber block as soon as he uses it on a saber block.
Instead, if you activate Frenzy and go within slicing distance of a Jedi, if he's holding up a block then Kylo will just rapidly hit the saber block like Yoda currently can do without issue.
This would make the ability a lot more fair for both the Kylo player, and the one who's fighting Kylo. It would also make the light saber battles look something more like how it would be in the movies.
2. I think that when you kill an enemy you should immediately cross over to the next opponent that's near you instead of the Frenzy just straight up deactivating. It really catches me off guard & it would be better for the ease of use.
OR maybe you could press the melee button & you'd move onto the next closest enemy near you.
3. Instead of just pressing 1 button for this ability to work. I think that the player should rapidly press the primary attack button to continue Kylo's rapid strikes. Similarly to how Vader's force choke used to work.
4. Let his frenzy give out 20 health when you hit someone with it. Or give out like 40 health when he kills someone with the ability. He could really use the survivability in Galactic Assault.
5. This could work either as a star card, or as something he just can do at a default. I'd preferably not have it as a star card & rather have it at a default because I hate being forced into using heal cards like that when there's a bunch of other ones I'd want to use.
5. While he's rapidly hitting an opponent with the frenzy, I think that if a player tries to move Kylo with their control stick or with the WASD thing, Kylo should quickly dash behind his opponent while slashing them, just throw them off & confuse other enemies.
Just to let the player have some more interaction with this character you know? Right now you just press one button and it does all the work for you. Kylo could really use this depth.
6. If Kylo is knocked down in anyway, either by a force push, Rey's dash or Chewbaccas slam, he should get up right away & continue the Frenzy slashes. Instead of just getting up & having your frenzy immediately stop.
7. Last idea for this ability. The frenzy strikes should do 100 damage instead of 80. I hate hitting a heavy 3 times with this ability just to kill him.
Giving him 40% damage reduction while the ability was active is a HUGE step in the right direction. I know I've said this before, but in order for this hero to truly succeed, he's going to need more than just a few star cards, he's gonna need a few things at a Default so he can handle himself.
•
Frenzy Bugs:
Sometimes when I use this ability, I would just keep on swinging people but I'm not doing any damage like AT ALL.
I would also encounter a problem when I would only deliver 1 or 2 frenzy strikes when I begin hitting someone. Even if I have the Blood Lust card on, it would still sometimes do that.
Another issue is that whenever I initially use it, the frenzy wont actually target someone to hit. Which means I basically dashed straight past an enemy & have gotten myself into a bad situation.
It isn't so great having all of these things happen when I'm playing this character, he's already weighed down by so many things.
Sometimes whenever Kylo frenzies on an uneven surface, or on a ramp of some sort, he'll dash several meters above the floor, and would fall back down very awkwardly.
•
Freeze Ideas:
This ability is pretty cool. I'm not sure if it's intentional or not, but I love how he can stun people for like 4 seconds, that really beefed this ability up & made it incredibly good.
Also I wish when he used that ability, that Rockets, Grenades & Blaster bolts would completely freeze right in front of him, and then after the freeze is over the projectiles would be directed right back to where they were fired or thrown. Just because it'd be cool.
This ability should be on a 19 second cooldown, it's on such a long cool down right now! It feels like I'm waiting an eternity for this ability to charge up.
Freeze Problems:
I feel that when I use this ability, it doesn't work on enemies. This is a rare occurrence but it does happen.
•
Pull ideas:
Amazing ability. I love pulling people & imagining their pain in my head while they leap at my whim. Absolutely hilarious.
This ability could use some damage with it though, I think 50 damage at a default would be nice. There's reason why it shouldn't do damage, Yoda & Luke's force powers get to do damage, why not Kylo?
This ability should be on a 15 second cool down. Just so it could be more in line with his Frenzy's cooldown & to make him more deadly.
Problems with the Pull:
I'm having a problem where it doesn't actually pull people sometimes, so please fix that.
Kylo after he get's all of these buffs I just mentioned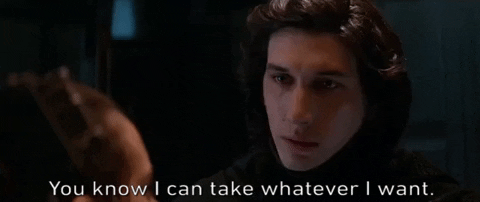 ⦗Emperor Palpatine⦘:
A grizzled old man, dominates the battlefield with his overwhelming abilities. Now THIS GUY can handle himself. Maybe a little too much if I might say.
•
Starcard Issues / Suggestions:
The Growing Darkness starcard is supposed to make Dark Aura grow bigger over time, but instead it starts big & then begins decreasing it's radius.
It's working in reverse & it must be fixed.
•
Ability Suggestion:
I think that Palpatine should be armed with his light saber in this game.
But that feature has been requested many times that I'm sure that Dice will bring it into the battlefront sometime in the future.
But for the sake of the thread, this is my rough concept of how I think it should play out.
As a side ability:
It would be binded to Y or Triangle, he can activate just 1 saber or both of the sabers whenever he wishes. He can sheath both sabers whenever he wants, and go back to his primary lightning attacks.
Very little changes about this hero if he equips a light saber. The only things that change is that the saber replaces his primary lightning attacks.
He can block while he has a saber out, but if blasters or a Light saber gets blocked or parried then that will drain a ton of stamina off his saber.
If he uses ELECTROCUTE, then he binds his lightning onto his light saber like Starkiller from the force unleashed, slams his light saber onto the ground and the lightning travels along the floor, stunning his enemies.
Every other ability works the same.
Base health:
Reverted back to 650
There was literally no reason to be giving this guy so much health, he already possesses enough advantages.
Health Regen threshold:
200
Giving the most mobile villain in the game besides Maul 300 health to regen was a huge mistake. Especially when he already had the best health card that allowed him to regenerate health as soon as he hit someone with the chain lightning. (More on the that later)
Possible Emotes / random character quotes he could have:
"A surprise to be sure, but a welcome one." "I will look at your career with great interest." "It's treason then." "Oh but I'm afraid that the shields will be quite operational when your friends arrive."
•
Primary Lightning:
Palpatine's primary lightning does way to much damage when he uses both of his hands. Please tone that down, it's so obnoxious to the point of where even I am getting sick of it.
The moment you gave him stamina, should've been the time he got a damage nerf.
It only makes sense that when you get something as good as that, you have something taken away. ESPECIALLY with how much power this dude has with all of his other abilities. Just saying.
1. Please tone down the brightness of his lightning when he starts shocking other enemies. It's WAAAY to bright, it honestly hurts my eyes. When the lightning hits an opponent it gives off this obnoxious glow, it doesn't feel good to look at.
2. His lightning also doesn't look as good as it does in Revenge of the Sith, but I think I'm getting a
bit too picky with this.
3. Reduce his lightnings stamina drain on Jedi blocks, he drains Luke & Yoda's block so fast. It's really annoying having to deal with that on the receiving end.
Electrocute:
This is fine.
Dark Aura:
This is kind of obnoxious, but it's also fine.
Chain Lightning:
The chain lightning chains to so many opponents right now that the Surge of Lightning star card is completely worthless. This ability needs a nerf to maybe like 3 or 4 opponents.
Give his Lightning Absorption (health on HIT) card at a default, but this time it should be a health on KILL instead of a health on Hit ability that it is right now. It makes Palpatine ridiculously easy to play, and allows players to dominate with him unlike any other hero in the game.
Here's how I think it should work:
It should only give him like 15 or 20 health when he kill's somebody with the chain lightning. In return for making this star card come at a default, it'll be replaced with a new card.
It's called
Lightning Restoration
, Whenever he shocks a target with his chain lightning, he actually gains extra stamina to use On top of the regular amount of stamina he actually has.
Darth Vader:
Darth Vader is an excellent hero, almost perfect. There's almost nothing I would want to change about this hero for Battlefront 2. But there are a few things I would like to have changed.
Replace his Dark Lord health on kill card with some other star card, and give his health on kill card at a default. I really don't like using health on kill cards for heroes when there other more enticing cards I Could use, but due to the terrible survivability of those heroes I'm basically forced into using a health on kill card.
1. Get James Earl Jones to voice Vader in this game! He gave a fantastic performance in Rogue one & the Rebels tv show. Let him shine in the game before he passes on into the cosmic force.
2. It would be cool if his force choke actually tossed enemies to a wall or ragdolled them in some type of way. Like in Rogue one.
Force Choke issues: He has a problem with his force choke that makes the opponents that are getting force choked completely spaz out in their POV. It's incredibly nauseating having your screen spaz out like that when you're getting choked.
Whenever an enemy gets force choked, sometimes they would be stuck in one direction, unable to use their weapon.
Sometimes the force choke sound would stay onto the force choked opponent for a very long time & it would get incredibly annoying.
Darth Maul:
One of the most well designed heroes in this game. Everything about him is almost 100% on point, exactly how his portrayal in TPM should be in this game.
One of the things I think he needs, is the ability to heal beyond his health threshold of 250.
Here's actually what I have in mind for this. Each individual target that Maul force chokes grant's him 20 health.
The force choke is actually a pretty underused ability for Maul in Galactic Assault, so this should encourage more players to use it.
•
Star card Issues / Suggestions:
Light Saber Defense actually gives out passive damage reduction (16%) & Even more damage reduction while dashing (32%) Not sure if this is intentional or not, but I find this card to be absolutely worthless because Maul can actually deflect laser bolts while he's dashing. Thus negating the use for this star card entirely.
Turn it into an actual light saber deflection card instead. Pressing what normally would be the block button would allow Maul to hold up a light saber block which will let him parry light sabers or deflect laser bolts.
The draw back for this, is that he has 1 of his dashes taken away, and ALL of his cooldowns take 35% longer to charge up.
The Fool Me Once card is worthless, it doesn't work at all. Even if it did work, the difference of 10% faster cool reduction is so minimal, it might as well not even exist as a star card.
The Frantic Strikes card is completely worthless, 90% of the time you're not even going to be thinking about your stamina because of how often you'll be using your dashes to catch up to someone. So stamina is generally of little concern.
Instead of that horrible Frantic Strikes card. Give him a star card that allows him to consecutively hit a light saber block, as long as he has enough stamina.
I feel that Maul is completely outclassed when it comes to light saber battles because the dodge got nerfed.
So because he doesn't have an actual defensive capability to fall back on, his offense will become his defense as a result of having this star card. I call it
Furious Strikes
.
Here's how I think it should work:
He can constantly hit a saber block, as long as he has an appropriate amount of stamina. When his stamina reaches over the normal threshold, then Maul will no longer be able to hit a saber block without getting stunned, and he will have to wait until he goes below the stamina threshold for the star card.
Once he has his stamina below the threshold, he can continue hitting saber blocks.
Card Tiers:
[15% / 30% / 45% / 60% Stamina threshold before Maul is prone to getting stunned by saber blocks again.]
Boba Fett:
This guy actually has a solid ability set, he can stand on his own. But that doesn't mean he's without flaw.
•
The Blaster:
Please give Boba back his regular blaster sound from ESB, the one in this game doesn't sound like how it should in the slightest. I feel like they're trying to imitate Jango Fett's westar pistols sound effect with Boba for some reason, but end up falling flat on that. Just my opinion.
•
Star card Issues / Suggestions:
I would LOVE if opponents that were killed by the Rocket Barrage or Flamethrower were left in flames after their death. Just to add to the already immersive atmosphere.
It would also be cool if they were on fire for a bit if they got hit by those 2 abilities in the slightest. They should also apply this to every single explosive ability for the other soldiers / heroes in the game.
They let us do it in Battlefield 1, don't know why they took steps back with this.
Boba Fett deserves the same chance to heal more health after the regen threshold, as other villains like Vader, and Palpatine can do.
I suggest letting him gain 15 health for every enemy he kills that has been spotted by his Scan pulse.
Quick Refill, and Fuel Efficiency are utterly worthless star cards, the difference is 1 whole second of quicker recharge time & less fuel burned when using the jetpack.
Why is this the way it is? Why would I ever use up a card slot just for 1 less second for my jetpack to function when the Scan pulse actually lets me use the jetpack for an EXTREMELY long amount of time without the use of star cards?
I'm absolutely baffled at these abilities percentages.
Horrible design. Please anyone who uses Boba, take those cards off, they don't work. Take it from a guy who plays the heroes a bunch.
Death from Above is also a worthless card, why even have damage resistance while you use the barrage, when the ability only lasts like 3 seconds & you're a very hard opponent to hit when your flying? People aren't even going to hit you most of the time, so yeah this card is really bad.
Instead they should make this card give damage resistance when Boba is not using his Jetpack, that'll really up the use of this star card.
Call the new card
Beskar Resistance
to reflect how Mandalorian armor can actually protect against sabers & blaster bolts.
His Blaster Disabler star card is very inconsistent, it doesn't even work half the time. I would have the rocket hit near an opponent & he would still keep firing at me.
The concussion rocket is also 50/50 on whether or not it'll actually distort someone's vision.
Information sharing is also another horrible design decision. It being a star card is just absolutely ridiculous. Why do Finn & Rey get to share the enemy's position without a star card, but for some reason Boba doesn't get a pass with this? This star card needs to be given at a default, as it has been done for other heroes.
When it's given at a default, replace it with a star card that lets him scan a wider vicinity of his area, I call it
Enhanced Visor
.
Common - boba can scan a 5% wider area Uncommon - boba can scan a 10% wider area Rare - Boba can scan a 15% wider area Epic - boba can scan a 20% wider area
Boba Fett should get a star card that decreases his recharge times if he kills 5 opponents with his flame thrower. I just think that'd be a really cool star card for him to have. It would encourage more use of the Flame Thrower melee he has.
INFORATION SHARING reworked = SUBSTANTIAL REWARD(new name) Boba regains 40 health for every kill on scan pulsed enemies
•The
Scan Pulse
is just as inconsistent as the blaster disabler I just mentioned, it'll spot enemies on the radar, but it won't actually show their orange outline through the wall when you're not looking at the radar. This happens A LOT.
The Scan Pulse for some reason isn't an actual continuous scan pulse like Finn's undercover team or Rey's insight.
Once you use the ability, you only get to have that 1 area scanned to where you're positioned & that's it. Compared to Finn / Bossk / Rey's scan pulses, this ability actually isn't all it's cracked out to be.
It also should let me use his flamethrower, I don't know why it isn't, but the flamethrower should work regardless.
•
Jet Pack:
His Jet Pack speed is absolutely obnoxious to deal with in HvV.
I once had a match where the target was Boba Fett on mos eislely, and he just kept on using his jet pack & did circles across the whole play area & nobody could stop him.
Please revert it back to how it was in HvV, but only when Boba is the target so we don't have to deal with his shenanigans. Or better yet, don't have it at all in HvV, I could live with that.
His Jet Pack buff is alright in Galactic Assault. It would be even better if his jetpack wasn't so sensitive to explosive damage, you can just tap him once with the DC-15 explosive shot & he'll get swatted like a fly and plummet down like a bag of bricks.
It's incredibly annoying having this happen when there so many things that can do that, and potentially a ton of players exploiting explosive rounds just to get you down.
It makes the game completely un-fun when you're constantly getting knocked down by vehicle turrets & explosive shot all the time.
One other gripe I have with this ability is that the placement of the ability in the UI when I'm playing the game isn't very good for knowing you're exact rocket fuel.
I'd prefer if the fuel & jetpack symbol were placed above my health like in Battlefront 2015, just for the general ease of use.
•
Concussion Rocket:
This ability would be quite good if it actually worked. The rocket won't even distort the enemy's vision half the time & the blinding effect doesn't stop me in the slightest, I can still see everything that is in front of me.
It the distortion effect needs to be 2x as annoying as it is, and the ability might actually work.
The rocket also has an issue with actually blinding someone in the first place, much like the Blaster Disabler card, it's 50/50 on whether or not the rocket will actually blind your enemy.
Rocket Barrage:
This is fine.
• [Flame thrower Melee:[/b] I feel like the flame thrower should be made into a more reliable ability to use. Right now it's just a glorified melee, which I don't think is very cool for Boba's flame thrower. There are very few situations where I'd actually use this ability.
The flame Thrower should be made into it's own little ability like it was in Battlefront 2015. It could be just like the First order Flame trooper gun.
______________
[Thread continued in the reply section]
⦗ XBOX GT: EIusive DJ⦘
~ "
The Knights of Gareth are eternal..." ✔
\⧹If you happen to have ANY ideas for any hero you desire to have in Battlefront 2, Let me know in a DM!⧸/
How to make Every Hero Viable in Battlefront 2


Howdy, Stranger!
It looks like you're new here. If you want to get involved, click one of these buttons!
Quick Links