Anyone have any tips as heroes in Starfighter Assault?
Since new pogression I am trying to level up some hero ships, mostly Iden and Yoda, but whenever I become them, 80% of the time half the enemy team is just chasing me down. Does anyone have tips on what to do when this happens besides spinnig around like a drunk man? Because this helps but once you try and get a couple of shots off you either peel off before you get a kill and get half health or finish them off and die. Any tips will be appreciated.
For the Greater Good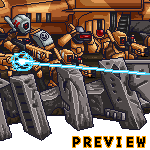 Howdy, Stranger!
It looks like you're new here. If you want to get involved, click one of these buttons!
Quick Links