What Epic Infantry Skins Do You Want To See?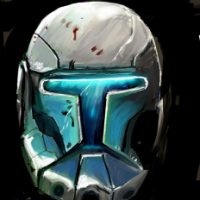 Since we've seen what to expect from rare quality infantry skins, I think I've got a bit of an idea what we could expect from some Epic level skins on the horizon. Or at least these are what I'd like to see.
Clones
Galactic Marine for Heavy
Bomb Squad Trooper for Assault

BARC Trooper for Specialist

Droids
Fire Droid for any/all classes

Rebels/Resistance
Aside from the alien head it'd be nice if these came with a slight to moderate outfit change.
Togruta for Specialist

Devaronian for Assault

Chistori for Heavy

Kaleesh for Heavy

Gungan for Assault/Officer
Empire
Mudtrooper for Specialist

Tank Trooper for Heavy

Patrol Trooper for assault

Death Star gunner for officer
So what Epic worthy infantry skins do you guys want?
Howdy, Stranger!
It looks like you're new here. If you want to get involved, click one of these buttons!
Quick Links