Let's Discuss Flash Grenades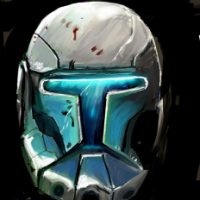 It's time to use the N-word. It's gone on far to long. The flash grenade needs... a NERF.
Easily the most debilitating star card available in the game, they have way too much effect on everything. Not to mention that with recharge battle command they can be used twice in rapid succession.
These things are a hero level grenade and it's out of hand. They are stronger than the Death Trooper's Sonic Imploder, Leia's
actual
flashbang, Boba's concussion rocket, and the flash pistol in terms of impairment. Why?
Is there a logic to the Officers having access to something like this? I'd either reduce its effectiveness, or swap it with Leia's flashbang.
I've played officer a fair bit lately to make sure I'm not crazy, and I was glad to find that I'm not. These items of maximum irritation are way too potent against all manner of enemies, infantry and heroes alike.
Did I mention it also slows your movement, aim, and occasionally disables abilities and blocking? It does more to ruin your movement than the Specialist's shock grenade which makes a great deal of sense.
It can have an equal radius to the Thermal Detonator, a
real
grenade, with the bonus of being capable of an airburst.
Seriously it needs some adjusting. They've dodged every patch so far and they need to be balanced.
Feel free to discuss your take on the current state of Flash Grenades!
Also would like the round table upstairs to take this into consideration if you would please
@F8RGE
Howdy, Stranger!
It looks like you're new here. If you want to get involved, click one of these buttons!
Quick Links