Rating the Solo Season
Now that the second part of the Solo season has been out for a week I think it's time to judge this season as a whole now. I'm gonna be judging it for what it is instead of judging for what it isn't that means I'm not gonna give it a 0/10 for not have GA maps or anything like that. Here is the trailer as a reminder of everything we got.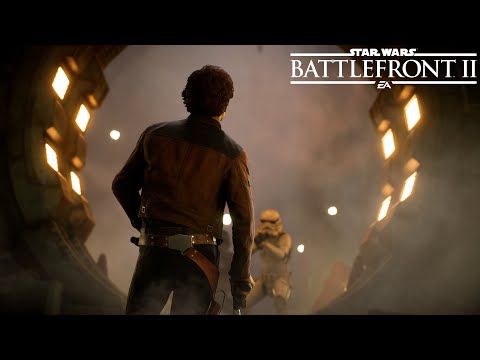 Overall I'd give the Solo season a 6/10 and I'll be going over the stuff in the order of the trailer.
Maps:
The Coaxium Mine is a great map, flows really well in extraction and is very detailed.
Jabba's Palace though being recycled feels new and plays better IMO then last game so it too is good though HvV getting cornered by saber users is quite frustrating.
Modes:
Hero showdown is a good alternate to HvV but I think it needs more options and given that it is only a 2v2 introducing a server poll system to decide things like choosing to 1v1 instead of waiting for more people to join.
Extraction is my favorite part of this season and was my favorite mode from last game and with the exception of the final phase of Jabba's palace being a bit too hard for the rebels to win I think the mode is very well done. The class system with this game improves the mode aswell.
Starfighter Arcade, I personally don't like starfighter assault that much however I do like the flying in this game so getting it in offline is a big plus for me and considering how Battlefront 2015 was a game that wasn't made to last and had little to no offline content it is great to see that this game is getting future offline content.
Skins:
Boushh Leia: One of the most unique skins in the game and my favorite Leia skin so far. It should be noted it didn't work when it first came out though.
Lando Skiff Disguise: This one is nicely detailed too but I think it is not as nice as the other skins Lando has.
Chewbacca Heist: It is funny to see Chewbacca with goggles on but this one gives off the same vibe as the injured skin does, changes are small and not very noticeable.
Han Becket Crew: Skin looks great but I think after awhile I'll be going back to one of the more iconic Harrison Ford Solo skin.
Han Corellia escape: This skin looks great however I find it unnecessary. The reason being in the following spoiler.
This skin is from the first part of the Solo film, I liked the Solo film but I found the beginning to be the weakest part due to it feeling rushed and having little context.
Lando Sportsman: Another great looking skin though as a Lando main I think I just can't go on without Billy D Williams for too long. I'll get into the voice acting in a bit
Lando Gambler: This skin is funny and silly looking however just like the Corellia escape skin I find it unnecessary. Again reason being in the following spoiler.
This skin is barely in the film, it is in one of the very last bits where Solo wins the Falcon from Lando.
IMPORTANT NOTE ABOUT THE SKINS
If it weren't obvious already they didn't get the actual actors to voice them. Han is alright but Lando is really off and is kinda quite, HOWEVER I do like some of the new lines he says so that kinda makes up for it. But one thing I really don't like is that if you use these skins most of their banter is gone (but is sometimes replaced). Young Lando won't yell "Come out of that armor let's see how tough you really are" at Vader anymore and young Han won't banter with Leia anymore. There is some new banter there like young Han telling Phasma "look you don't wanna get scuffed so let's call it a draw" or Young Lando telling Palpatine he isn't intimidated by him but I don't think this makes up for the great stuff their default and other skins had.
I know I also said I was gonna judge this for what we got instead of what we didn't get but I think the 2 skins I thought were unnecessary could have been swapped out for other stuff from the Solo film.
Lando's Falcon, now as stated before I said I didn't really like Starfighter assault but even taking my bias away this still doesn't seem too good. My favorite hero ships are Maul and Yoda for their effectiveness and Iden and Poe for their ability to mark targets and blend in (I also really like those 2 characters). All 3 Falcons stick out and always seem to get ganged up on and killed quickly. Also the chatter between Lando and L3 is rather abrupt and not very good. Lando's voice actor is really on display here since you don't get the great looking skin or the cool lines he says when using his land hero gadgets. If you didn't like the character L3 from the movie odds are using this will really put you off.
Conclusion
I give this season a 6/10 but If I took my bias for extraction out I think it would be a 5/10. The main reason being this season being split into 2 parts. It seemed to be an unnecessary thing because nothing in this season spoils the the film except maybe the lore description for the skins but those could have been added in a later patch. I also think there were other things from Solo that could have been added like Mud Troopers, the patrol stormtrooper, Mimban Imperial officers with trench coats. The very lackluster Falcon is also kinda disappointing.
In summary
+Extraction
+Maps
+Great looking skins
+Hero Showdown
-The season being split into 2
-Lando's Falcon is lackluster
-Lando's voice actor isn't really good and alot of great hero banter comes at the cost of using the new solo skins
-There was better things from the Solo movie that could have been added (again I know this kinda contradicts a statement I made earlier)
Howdy, Stranger!
It looks like you're new here. If you want to get involved, click one of these buttons!
Quick Links