Creating your own BATTLEFRONT Immersion and Background story - BATTLEFRONT II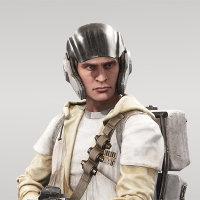 Does anyone else create their own characters and stories for their favorite skins in Battlefront? I sure do! Some of you may remember a similar thread of this name back on the Battlefront 2015 boards created by
@Webn8tr_
. I was very fond of that thread and loved reading the stories some of you came up with. So I present a new thread for you to tell your soldier's tale. Who are they? What's their story? That's up to you! (
@Laser921
, now's your time to shine!)
Here's my Rebel Alliance soldier I created back in 2015 that I use to this day. Please feel free to use this template or to come up with your own. Have a blast! I can't wait to see what you come up with!
Name:
Wodi "Wishbone" Quix
Homeworld:
Brentaal IV
Species:
Human
Gender:
Male
Allegiance:
Rebel Alliance, Resistance
Why did you become a soldier:
The Empire hurts people and planets to get what it wants. And it doesn't care how or how much.
Did you have a family:
I did. Antares Quix was my father and Syrin Kylini my mother. But my squad is my family now.
Biography:
Born on the Core World of Brentaal, Quix became an orphan after witnessing both his parents' deaths in a pirate attack onboard their freighter in the Mid Rim. Found drifting in his derelict vessel by a band of sympathetic smugglers, Quix was taken aboard and brought back to his homeworld, where the Galactic Empire had taken over. Sometime later, after witnessing the Empire's sense of justice on a group of protesters in the form of poison gas and blaster fire, Quix joined up with the local resistance, but was unsatisfied with the results and the groups' small-scale thinking. It was during this time he picked up on a larger rebellion attempting to fight the Empire. Interested, and after tuning into several secret broadcasts put out by the Rebels, Quix located and ventured to a secret Rebel cell on Dantooine, where he volunteered, becoming a soldier and later a commando assigned to Rancor Squad of the Alliance Military. During his training, Quix received his nickname "Wishbone" after banging his head on a Y-wings jet engine. After the conclusion of the Galactic Civil War, Quix would go on to serve in the New Republic military and later, the Resistance.
This discussion has been closed.
Howdy, Stranger!
It looks like you're new here. If you want to get involved, click one of these buttons!
Quick Links