DICE: Damage Reduction for Heroes below HALF HEALTH? Arcade Only
Tell me where and when Heroes got Damage Reduction while below half health on Arcade?

Great SWBF youtuber RivaThames recently made a video comparing lightsaber values, and he discovered Heroes would get damage reduction while below half health. He didnt test against any kind of blaster damage, so maybe they only get this resistance to lightsaber attacks, or to Hero attacks, more tests are needed to check this out. However, just after posting it he realized this was an Arcade only feature, so he had to re-upload the entire video.

I'd love to do these tests, but you, DICE, insists on not allowing PC players to have Splitscreen, and I don't have the money to get a Console and a copy of SWBFII for it.

However, back in April I did many tests on values of this game when the SplitScreen mod worked properly. And back then Heroes didn't have this damage reduction. Your update logs become more and more a piece of doubtful info as some changes actually don't work or hadn't been implemented at all, some infos that should be there are missing, and only a handful of info is correct.

So this confirms you either did a DRASTIC CHANGE to Hero Combat in Arcade between these 3 months and haven't told us about it, or made Arcade even more different then Multiplayer to make the lives of us the testers even harder when testing things on this game, or even this is a NEW BUG which for now is restricted to Arcade, but as you love to come with strange bugs every now and then, I wouldn't be surprised if this spilled out to Multiplayer modes eventually.

Could you clarify? Or will we stay in the darkness as usual?
Tired of BUGs?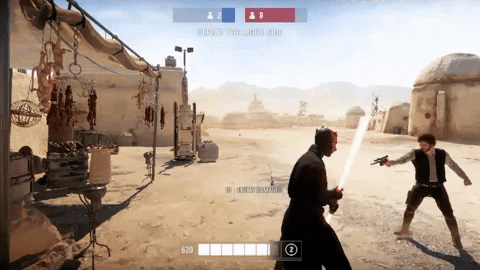 Well, they'll still exist.
But visit the
Rogue Bros Channel
, there we document many BUGs and possible workarounds for them. There's also gameplay and other videos related to EA's Star Wars Battlefront (I & II)
Howdy, Stranger!
It looks like you're new here. If you want to get involved, click one of these buttons!
Quick Links