The forgotten skin [Emperor Palpatine]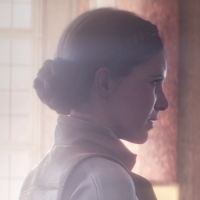 I've heard everyone wanting Palps to have his red sith robes as an appearance, but he has a more iconic skin idea and I'm going to explain you why we need it into the game.
But first let's take a look at the skin closely and compare it to the current one.
Galactic Emperor (The current one)
" A black monk-like robe with a raised waffle pattern on it and long sleeves. Made of harsh zeyd-cloth. "
Darth Sidious (Rare)
" A gray robe with a large hood, a black velvet capelet and puffed sleeves. "
(As you can see the brooch has a different shape and material it is made of.)
It was also in
The Clone Wars
(As you can see it was slightly different in the Clone Wars TV series)
It would be great if they added this skin during the Clone Wars season because Palpatine wore this during that time. Besides the villains in this game deserve an appearance each.
See, even Pandemic Studios' Battlefront 2 used it as his default appearance, and I've seen DICE getting inspirations and bringing stuff back from this old classic.
So, do you wish to see this skin in the game as well? I would love to see it in. . .
Current Topics:
Balancing Darth Vader
Hero ability changes

Xbox Gamertag:
PlayerPurity
Twitter
Youtube
Howdy, Stranger!
It looks like you're new here. If you want to get involved, click one of these buttons!
Quick Links