The Star Wars Arsenal: Untouched Weapon Variety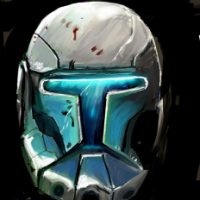 I'm sure this is one of the more obvious statements in the world, but the weapon selection currently is quite stale and could be so much more. In the lore of Star Wars both in past canon and current as things are being redeemed into current storytelling, there are multitudes of weapon types we could receive to expand the arsenal. I'm going to outline some of the major ones, how they'd work in game, and usable examples per class availability.
Particle Weapons

The What: Typically manually loaded, non-advanced assault weapons that consume particle charges to accelerate them with lethal energy. In this state they are known as accelerated charged particles or "ACP." While generally dissipating against hard armor, they slice through shields and organics. Due to the primitive nature they are generally unwieldy and overheat quickly.
The How: This would ideally be a ACP mod to these weapons as their first available attachment, or fire in this manner by default. They would deal moderately increased damage to shields and players, but decreased damage to vehicles/turrets. Their max damage range would also be reduced by a fair amount.
Examples: ACP Repeater(Assault), LS-150(Heavy), DLT-20A Pulse(Specialist)

Electrical Weapons

The What: Ion shot is already in the game yes, but these are in the EMP spectrum. These weapons are directed bursts of electromagnetic radiation with the intent of suppressing or destroying enemy electronics. These can be lethal to organics when focused in strong bursts.
The How: As opposed to ion shot, these weapons would fire in this manner by default, with a mod that can convert them instead to standard blaster bolts with decreased accuracy and faster overheat. These weapons would have incredible range with very low recoil, a light stinger pistol effect(2-3 seconds), slightly reduced damage to players, slightly increased damage to shields/vehicles/turrets. Heavy class weapons would have a secondary fire mode that launches a short range lightning chain burst. Magnified electrical explosion when used on enemy tech
Examples: DC-17m Sniper(Specialist), DC-17m(Assault), DEMP 2(Heavy, Secondary Fire), Jawa Ion Pistol(Officer)

Disruptor Weapons

The What: Extraordinarily powerful energy weapons, they are outlawed in nearly every star system. By consuming an considerable portion of the weapons fuel/charge, these weapons channel devastating hits that can pierce personal shield technology and destroy organic matter. These weapons in a charged state have even demonstrated to be able to reduce a standing sentient to dust.
The How: Since these are generally standard blasters that have been excessively powered, it'd be best to have 2 disruptor mods. One being disruptor mode(not to be confused with disruptor shot), that massively increases the range and damage of the weapon at the cost of overheating much faster and higher recoil. The shots are also shield piercing. The second is a secondary fire mod for sniper rifles that allows the shot to be charged into a 190 damage(headshot multiplier allows for more) disruptor bolt that if lethal will fully disintegrate the target. During the charge sequence you will forcibly scoped in and the shot will overheat the weapon.
Examples: DXR-6(Specialist, Dual Mods), DXR-6b(Heavy), Mandalorian Ripper(Officer)

Concussion/Sonic Weapons

The What: Directed sound based shockwave weapons, meant for incapacitating hostiles by force. Repeated concussive hits can be extremely disorientating and even lethal. Powerful wielded sonic weapons with direct blasts have been known to throw hostiles to the ground into further harm. Particularly perfected by the Geonosian weapon smiths.
The How: These weapons would be best to fire concussive shots by default. They would be slow firing, accurate, mid-low ranged, low damage, with a decent AoE to their hits. Direct hits or those in the small blast radius of the strikes have their screen become blurred and deafened. Heavy weapons have a secondary fire option to fire a concentrated, directed blast with higher damage and AoE and direct hits throw the enemy several feet. Headshots increase the concussive effect.
Examples: LJ-50(Specialist, Secondary Fire), Geonosian Sonic Pistol(Officer), Stouker(Assault, Secondary Fire), Geonosian Sonic Rifle(Heavy)

Slugthrowers

The What: Primitive weapons mostly found with hunters and indigenous races, they fire solid state projectiles that are manually loaded at low capacity. Typically heavily modified to the users taste, these weapons propel a metal slug enveloped in energy at velocities that blaster bolts couldn't hope to match. This has led to them being popularized by special operations snipers in defeating shields and otherwise difficult targets.
The How: Given the modified nature of these weapons it'd make sense for this to be their default fire type to allow for 2 other mods to be equipped at a time. They would fire at exceptional velocity, albeit with projectile drop over distance, and this shot would pierce shields. Headshots and other critical areas(vehicle weak spots, starfighter weak spots) take even higher damage than other weapons. Sniper rifles must reload after every shot, other weapons have 10 rounds or less in capacity. Active magazine count and manual reloads like Krennic's pistol from BF2015
Examples: Tusken Cycler(Specialist), Traditonal Bowcaster(Assault), Wookiee Slugthrower(Heavy)



There are more, but I'll try not to go on in excess. If you could have one of these new weapon types enter the game which would you take? Any suggestions and other weapon types are welcome! I hope the developers take my heavy handed hinting and give us some much needed variety to our weapons, because is it really Star Wars without crazy imaginative hardware at our disposal?
Post edited by WildSpace on
Howdy, Stranger!
It looks like you're new here. If you want to get involved, click one of these buttons!
Quick Links