Paid Content Packages, Money to Dice, Content to Players?
One of the things we remember being said from when they were making this game is that Paid DLCs wouldn't be a feature because they splitted the community in SWBF2015. That's true, I remember how it was harder to find Battle Command mode on Death Star DLC then Walker Assault, Drop Zone, or Heroes Vs Villains.

However this has never splitted the community for who could use Bossk and who couldn't, or who could use those Hutt Contract Weapons, that could only be unlocked by playing with DLC stuff, and who couldn't. It could feel unfair, but not P2W. I mean, we couldn't play in maps restricted to DLCs with players that hadn't bought those DLCs, but we could play with heroes, weapons, and star cards that were restricted to DLCs with player that hadn't bought said DLCs.

So aside from Maps and Game Modes, I believe bringing paid content that can be used regardless if all players in the same lobby have bought that content or not is a good and honest way to allow DICE to make more money from this, and for us to receive more content.

We have so much content from SWBF2015 that MUST come to SWBFII but will probably not come, like weapons, card abilities, heroes.

If it doesn't feel P2W (and I don't recall feeling that in SWBF2015, even with Bossk behind a pay wall), I'm all for it. I'd prefer that then a game which will die after Anakin and the new game mode are released in February.
Tired of BUGs?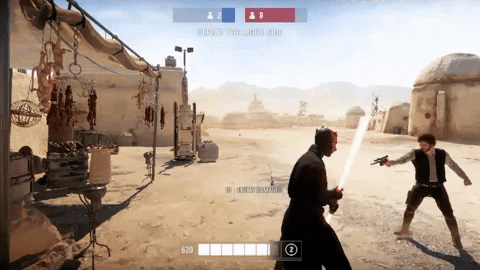 Well, they'll still exist.
But visit the
Rogue Bros Channel
, there we document many BUGs and possible workarounds for them. There's also gameplay and other videos related to EA's Star Wars Battlefront (I & II)
Howdy, Stranger!
It looks like you're new here. If you want to get involved, click one of these buttons!
Quick Links