General Grievous: 800 HP and 250 REGEN? Another Tank like Vader? November, the Villains Month
All of my post is restricted to Heroes Vs Villains and Hero Showdown game modes. I'm not making any assumptions for Galactic Assault.

I've just watched the latest of Battlefront Updates' videos in which Elliot showed F8RGE's posts about Grievous Total HP and Regen.

So Grievous will also have the highest base HP in the game which is 800 (same as Vader), and the highest base Regeneration in the game (excluding Bossk's special full regen) which is 250 (Rey, Yoda, Vader, Palpatine, Maul, and Kylo).

So Dark Side is getting another tank, while Light Side still has none*

To make things even more unbalanced, Grievous will have a Star Card that enhances his regen. If it's like Leia's card, giving 100 more regen, he'll have the highest Regen of all heroes (with the special exception of Bossk).

Novemeber will be the month of the Dark Side in HvV and Hero Showdown. Imagine facing against Vader and Grievous in Hero Showdown? Unless you throw them off the stage, or do some pretty neat paralysis combo, it won't be fun at all if the dark side players know what they're doing.

I hope Obi-Wan comes as a Tank, because if not these modes will become even more unbalanced then before. The Dark Side has always been the better side in Hero Modes since launch, but at least the light side can combo very well when the team is playing together. But if DICE keeps doing things like that, balance will never be achieved.

*Luke isn't a tank at all, nor Chewie. Yoda could be a tank if he could block lightsabers, but without it he must resort to Hit and Run tactics which have nothing to do with a tank. And Rey is the only Hero which tries to fulfill the role of tank, but does it very poorly. Without any CC ability, and with all nerfs she got since the beginning, she doesn't fit any role at all in Hero modes.
Tired of BUGs?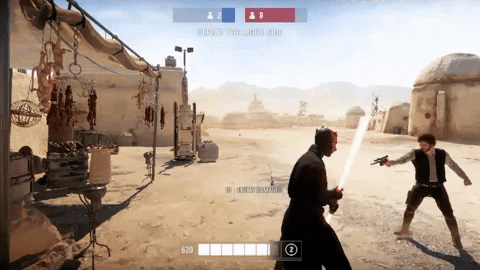 Well, they'll still exist.
But visit the
Rogue Bros Channel
, there we document many BUGs and possible workarounds for them. There's also gameplay and other videos related to EA's Star Wars Battlefront (I & II)
Howdy, Stranger!
It looks like you're new here. If you want to get involved, click one of these buttons!
Quick Links