How to Yoda, with the new "Release The Force" health card (The BloodSpiller way)
The best way I've found to use Yoda, with his new health on Unleash kill card (Release The Force), is to pick off individual troopers with the following pattern:
Attack with a single lightsaber strike (standard or dash ability)
Finish them off with Unleash for an easy 20 HP gain
Rinse and repeat
The best cards for a Yoda looking to go on a nice killstreak (for me at least), seem to be: Release The Force (for health gain on Unleash kills), Unleashed (increase Unleash's AOE), and Agility (swap this card out if you prefer something else, Agility is just my preference).
Yoda Tip's and Tricks:
Activate Presence while dashing or striking with your lightsaber mid-air to skip the animation
Use Yoda's dash attack to break through opposing saber heroes blocks and deal damage
Use Presence when you are: choked, stunned, or frozen to break free
Don't just spam your lightsaber attack on someone running away, dodge towards them until you are within range before swinging (avoid chasing after those with Vanguard or Infiltration equipped though, as it will be tough to catch up with them)
Keep your distance from a full health: Grievous, Vader, or Maul; as they can wreck you if you're not careful. Avoid: Iden and Kylo, if your presence ability is not available for you to use for breaking out of their stun(s)/freeze(s).
Here's a decent Yoda killstreak I got yesterday, if you wanna see some of these rule's in practice: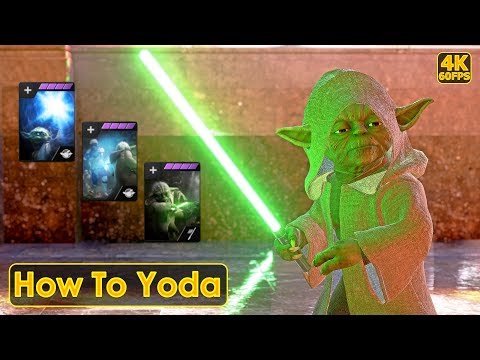 Howdy, Stranger!
It looks like you're new here. If you want to get involved, click one of these buttons!
Quick Links