What maps should be the priority for Conquest?
Hi there, what's up? So, I've been thinking about the "New Large-Scale Mode with Capture Points and Capital Ship Takedowns" and I can sadly very well imagine there only being a few maps available for it. So, to hopefully help out the devs in bringing this highly requested mode, let's see what 4-5 maps we have already (not counting Geonosis) would work well for Conquest, or whatever they call it. To start off, I'll pick one from each era, and my choices would ought to be...
Kamino
: Oh Kamino. This might be one of if not
the
best looking map in the game, it's stunning. Sadly, I almost never enjoy playing it. As it's not a Walker-based first objective, it's all too often lost on the first phase, and the second phase is very unforgiving. While this map is exceedingly frustrating more often than not, with two of the worst two phases of any of these maps, I think that could all change with the non-linear gamemode. It plays on the more linear Galactic Assault, but Kamino is a bit more circular than the other maps, and there are multiple points of entry on most capture points. Imagine all areas that are currently capture points or objectives in GA are now all open to capture
at the same time
, with each side spawning at the very beginning for the Droids and the very end for the Clones. Kamino's many platforms and interior sections would play to the strengths of both vehicle AND infantry players, and the three main platforms outside would be the perfect bridges to link the two main halves. C'mon guys, I'd need to enjoy Kamino again!
Mos Eisley: While playing it, Mos Eisley can feel like a big rectangle, but when I fly above it, it's actually
far
more filled out than I realized. I'm not sure how much of it is actually playable and tested, BUT I'd love to see DICE work on expanding the map for conquest. I hope they do the same with Theed as well (it also has room for more playable areas) but I stuck with Kamino since it'd be easier. Back on topic with the dustball, Mos Eisley has a lot of my favorite kind of infantry combat, close-quarters action to really keep you on your toes, and I love the veticallity of it. The tightly-knit urban areas are broken off by the wide roads, but there could be a few crashed starfighters for cover. It's already a map I love, and I bet a lot of you would enjoy capping Command Posts like old times on it too ; ).
Starkiller Base: This was a though one, as Crait and Takodana are my favorites for the ST maps (plus Crait is one of my favorites
period
), but a certain fellow convinced me that one of my least favorite maps could be great in Conquest...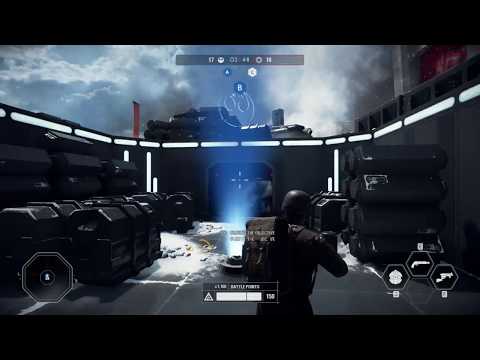 … just add in more ships and debris in the center and it could be amazing!
Well... I'd love to hear what maps you think would wok well! Have a good one!
"I felt there was a large amount of human chauvinism... also I felt very bad that at the end the Wookie didn't get a medal also... oh, all the people got medals but the Wookie who had been in there fighting all the time, didn't get any medal, and I thought that was an example of Anti-Wookie discrimination." - Carl Sagan on the subject of Star Wars
He knew.
Howdy, Stranger!
It looks like you're new here. If you want to get involved, click one of these buttons!
Quick Links