Timed Challenges - Please NO MORE mode-specific timed challenges for Ewok Hunt, Extraction, etc
Please stop giving me timed challenges in modes that no one plays, like Ewok Hunt and Extraction. I can never complete them because I dont want to sit in menus half the day trying to locate a game.
Please... NO mode specific timed challenges: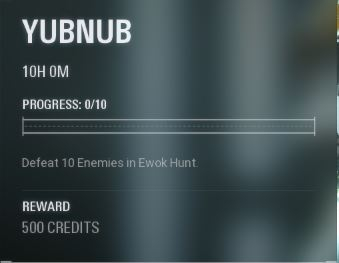 Maybe if we had a server browser, and could see when modes were populated, but as it is now, it's not even worth it to try for them. I just ignore all challenges that mention extraction or ewok hunt, which I dont think is the dev's intent? Amirite?
Post edited by Moxx on
Howdy, Stranger!
It looks like you're new here. If you want to get involved, click one of these buttons!
Quick Links