Cassian Andor / Hero Concept
Cassian Andor
│ Be RESOURCEFUL │
│OVERALL ROLE ON THE BATTLEFRONT –––⧸ Utility Disruption Tactics│
│Base Health: 650 HP│
│Health Regen threshold: 200 HP│
│Time before Regen kicks in: 3 sec.│
│Time before Regen Threshold is met: 4 sec.│
│Movement Stats: Cassian can cover 7 meters of distance all in 1 second while Sprinting.
│A280-CFE Reconfigurable Blaster Pistol / Damage & Performance Stats)
│Dmg per shot: 42 dmg, 87 dmg on head shots.│
│Semi-Auto Fire rate: 1 shot every .20 seconds│
│Damage fall off: After 8 meters =/= 40 damage +-+-+ after 16 meters =/= 36 dmg│
│Blaster Accuracy: Great in CQC, works well at mid range, loses some capability at long range.│
│Maximum amount of shots before overheating: 25 Shots total│
│Time before gun starts to automatically cool off after not firing: 1 Second│
│Time before gun is completely cooled: .6 Seconds│
│Successful Cooling flush Time: .2 seconds│
│Infinite Cooling Flush time: 5 Seconds│
These are star cards that don't necessarily require the activation of an ability to be effective.

(The brackets below the descriptions represent all 4 star card tiers in the game.)

⦗Passive Star Cards⦘

Ruthless Rebel: For every time Cassian earns a kill on infantry units, he regains 20 health. If he defeats a Villain / Reinforcement then he'll regain even more health.
│25 /

50

/

75

/

110

Health regened per Villain / Reinforcement kill

│ Whatever it Takes: Cassian will deal more damage if he blasts an enemy from the back.
│10% /

15%

/

25%

/

30%

Extra Damage Ouput

│ ╲\⧹│◾-◾-◾-◾-◾-◾-◾-◾-◾-◾-◾-◾-◾-◾-◾-◾-◾-◾-◾-◾-◾-◾-◾-◾-◾-◾-◾-◾-◾-◾-│⧸/╱
SIGNATURE ABILITY (R1+L1/RB+LB) /

9s

Duration / 21s CD / ⦗Espionage Tactics⦘ –

Cassian makes due with what he has in the situation and goes full on Recon. During this time he will be able to run much faster whilst disrupting enemy positions all throughout the area.

How this special ability works:

Cassian flips a switch on his wrist, which will allow him to spot all enemy positions within a large

60m

radius, and be undetected by enemy sensors.

Specialist infiltration, Assault Scan Darts, Mines, turrets, heat vision and other targeting features will unable to acknowledge Cassians existence.

Which means that he'll be hidden completely from the enemy radar, and things like Officer Turrets, Specialist trip mines, Bossks Mines or Phasma's Droid will not be able to trigger on Cassian entering their vicinity.

He'll also be able to spot enemy equipment for his team mates as well.

So everyone will know that they're walking into a trap if Cassian is around to provide the necessary intel for them.

(Which makes him a prime counter to enemies holding out in a specific area)

He can also spot how much health an enemy has through a wall, as well as seeing what type of class they are.
To further help him stay hidden behind enemy lines.
He will have his sprint speed increased by
25%
, and opponents will not be able to see the players name tag.
Cassians foot steps will be Dead Silent, and his voice lines volume will be lowered by
50%
for Enemies.
Cassian will jam enemy transmissions, by flooding everyones scanners with the red indicators all over, and scrambling the announcers voice in GA and HvV. Which simulates the enemy getting the wrong intel.
The ability to reveal enemies through walls (not the radar) only applies to Cassian, and no other team mates.
Contrary to Finn, who can potentially take the entire team off the radar, as well as revealing enemies both on and off the scanner.
│– Unique Blaster Function ⧸ Shock Blasts –│
While this ability is active, the player can aim down the sights of Cassians blaster pistol and activate a unique modification with charged laser bolts.
This blaster is now modified in a way that allows it to fire as a Rapid Fire non pump action Shock Blaster.
(–AKA it's now a Shot Gun–)
It will activate immediately upon the player aiming down the sights.
This shock blaster pistol will have an awesome lightning effect at the barrel, and it can fire
9
different electric stun bolts at once in a small cone in front of the player.
Which debilitate all enemies in such a way that their entire player model will be shown electrified, and their overall movement will be slowed down by
25%
.
It does Massive damage within
8 meters
, but starts to lose some momentum at anything longer than that.
When the player initially aims down the sights, he / she will be greeted with
5
blaster charge dots on the screen, each indicating how many shock blasts you can fire before having to recool the blaster.
The pistol won't cool down on it's own, so you have to do it manually, which will take over
.50
seconds.
Each blast from this modified effect will drain
.30 seconds
off the normal timer of the Espionage Tactics ability.
So the player will have to balance being stealthy over being in the fight.
⦗Star Cards⦘

Under the Grid: Cassian will gain more active time for ability upon each kill he gets.
│16% /

25%

/

35%

/

50%

Added Duration per kill

│ In the Shadows: Espionage Tactics now has more active time.
│10 /

12

/

14

/

16

More seconds of Stealth

│ Shock Value: Cassians Shock Blasts can now reload faster.
│5% /

15%

/

20%

/

30%

Faster Reload Speed

│ ╲\⧹│◾-◾-◾-◾-◾-◾-◾-◾-◾-◾-◾-◾-◾-◾-◾-◾-◾-◾-◾-◾-◾-◾-◾-◾-◾-◾-◾-◾-◾-◾-│⧸/╱
ABILITY (L1/LB)/ Infinite Duration on Each Turret / 10s CD on Each Use / ⦗Recon Turret⦘ –
Cassian makes use of Experimental Imperial Scan Darts that were heavily modified by K2-SO to scan enemies & fire upon them with Ion Bolts.
These turret discs can attach themselves to any surface and disrupt all incoming enemies that come to pass, distracting the opposition and making them vulnerable to attack.
How this ability really works out:
The Recon Turret starts off with
2
uses, and you can only have
2
turrets up at a time. They show up in the player UI as Lukes Saber Rushes & Phasma's nightmarish Staff Strikes do in game.
The player can hold the button to use this ability, and Cassian will hold out a small metal disc in his left hand. Depending on how long the player has held the button, cassian will throw this disc at a certain range.
If it's held for
1 second
, it'll be thrown at decent range. But if it's held for about
5 seconds
, then it'll be thrown incredibly far.
This disc will attach to ANY surface, and once it has stuck onto a rock or ceiling it transforms into an small Automated Ion Turret / Scanner with a basic
250 HP
.
–The Turret part of this unique Device–
It will lock onto enemies in
1 second
and is armed with super charged Ion Bolts, and causes splash damage across where it has been shot. Once it locks onto an enemy, it will not stop firing until the opponent is out of it's range.
These Ion Blasts fire
4 shots
in the span of
1 second
, and deal
30 damage
each shot.
The splash radius for the bolts only go up to
1 meter
.
But a unique part of the targeting from this turret, is that if any form of equipment crosses by its sights, like a Grenade, Officer turret or Bossks Mines. Then it will automatically stop firing at an infantry unit and blast at whatever the enemy has tossed and destroy it instantly.
So you could place this at a choke point and hard counter all grenade spam in that area. Or you can toss it at Bossks mines or Phasma's Turret & really mess up their day.
These Recon Turrets also double as Land Mines for vehicles. You could toss it at an AT-ST and once it crosses over the turret, it'll pulse out a very large amount of Ion energy before destroying itself.
Which will damage vehicles for
500
Armor HP and all other equipment throughout a
9
meter radius destroyed.
–The Scanner Portion of this Ability–
The scan goes as far as [color]
30 meters[/color]
. It will periodically pulse out a
3 second
scan to reveal enemies for Cassians team on the radar every
6 seconds
.
(But not for their actual LOS)
This scanner also comes with a unique targeting function that allows Cassian to target 1 specific enemy to take more damage from all sources.
Whenever the player holds X or SQUARE (Interact Button) on Console for
2 seconds
on 1 specific highlighted enemy within the recon turret, then that 1 enemy will now take
20%
more damage from yourself & team mates.
Instead of being a regular red dot on the radar, the targeted enemy will be shown as a big red triangle on the minimap.
Just to sort of signal to your team that the enemy Cassian just highlighted is up for a serious absquatralation session.
When the target exits the
30m
radius of the scan pulse, then that one enemy will be free from the debuff placed on them.
This feature can mainly be used on Villains who get a little too nosey lets just say.
⦗Star Cards⦘

Intel Operative: Targeted enemies within the Recon Turret are now dealt even more damage.
│22% /

25%

/

30%

/

35%

More Damage

│ Improved Sensors: The Turret feature of the Recon Turret will now target enemies faster & from longer range.
│15% /

30%%

/

40%

/

50%

Faster Targeting + More Range

│ ╲\⧹│◾-◾-◾-◾-◾-◾-◾-◾-◾-◾-◾-◾-◾-◾-◾-◾-◾-◾-◾-◾-◾-◾-◾-◾-◾-◾-◾-◾-◾-◾-│⧸/╱
ABILITY (R1/RB) / Infinite Duration / Is 100% Interchangable ⦗Sniper Configuration⦘ –
Cassian can toggle between his Pistol & his Sniper Configuration at will.
This Hero variant of the infantry A280-CFE can be fired in short
2 round
bursts when not aiming down the scope. It'll overheat after 16 shots have been fired.
It has mediocre accuracy throughout close and mid range, and suffers across long range and only does 40 damage each shot.
Which is why it is armed with a unique function that will allow you to aim down the scope, and hold down the attack button to prepare for a high powered 4 round burst shot.
These shots are fired almost all in rapid succession, dealing
80 damage
each shot across all ranges, and only requiring a short
.30 second charge up time
. Very fast, very dangerous.
⦗Star Cards⦘

Off the Books: Cassians Sniper Configuration can now charge up a 4 round burst much faster.
│10% /

18%

/

25%

/

40%

Faster Charge Up

│ Pick them Off: The Configuration can now fire more bursts before needing to overheat.
│1 /

2

/

3

/

4

Extra Laser Bursts

│
______________________________
│││Intro & Death Theme:│││
______________________________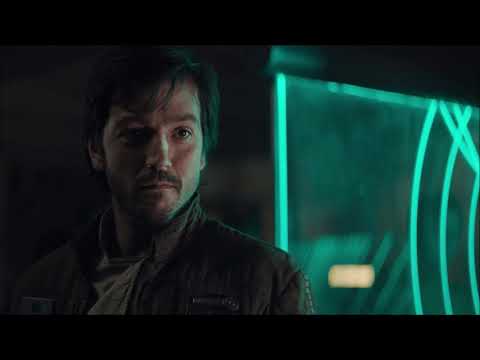 ( Provided by my friend @TMoneySartwell )




__________________________
│││APPEARANCES:│││
__________________________

RANGER





SPECIALIST





INTEL OPERATIVE





UNDERCOVER





LAST STAND







______________________________________________________________________________
│││EMOTES / or Possible voice lines Cassian could say throughout a match:│││
______________________________________________________________________________

"Let's make ten men feel like a hundred."

"If we're really doing this, I want to help."

"I'm tired of these stormtroopers."

"You watch my back, I watch yours"

"Make em learn their place."



"I know that you're not a Jedi, so what are really?" ~ Cassian
"I am one who upholds his Faith in the Force is all." ~ Chirrut "

There is only one kind of prison, Cassian. I sense you carry yours wherever you go." ~ Chirrut
"You don't know what I've had to do to stay alive up until now, so get off my back with that spiritual talk." ~ Cassian

"I feel as though you've been more tense this mission Cassian. Tell me my friend, what is troubling you?" ~ Chirrut
"I don't think I could face myself again if I told you." ~ Cassian

"The force is on our side in this fight." ~ Chirrut
"I think the force and I have different plans." ~ Cassian



"My probability would like to have a word about your ridiculous plan." ~ K2-SO
"Hey, I'm the one calling the shots this time. So you're sticking with what I've got in mind." ~ Cassian

"Don't tell me you're going to rush in there and attempt to assassinate them all after what happened last time."~ K2-SO
"Relax K, I've got the situation under control." ~ Cassian

"I'm not quite done with my calculations." ~ K2
"Fine, I'll make them for you." ~ Cassian

"Excuse my droid, he always seems to get his circuits up in a mix."~ Cassian
"You do realize I can hear every word you're saying." ~ K2

I've been in this fight since I was six years old.
Suddenly the rebellion is real for you?




____________________________
│││VICTORY POSES:│││
____________________________


@Dash
⦗ XBOX GT: EIusive DJ⦘
~ "
The Knights of Gareth are eternal..." ✔
\⧹If you happen to have ANY ideas for any hero you desire to have in Battlefront 2, Let me know in a DM!⧸/
How to make Every Hero Viable in Battlefront 2


Howdy, Stranger!
It looks like you're new here. If you want to get involved, click one of these buttons!
Quick Links