The Road Ahead, Part 7 — May 2020

Following the wrap-up on the Sequel Trilogy Era, we go back to the Original Trilogy, starting in May of 2020 to celebrate the anniversary of Star Wars: A New Hope...
And special thanks to
@Piscettios
for writing a fantastic post about a theory for 'A New Hope' season which aligned so closely with what I had I mind, I felt I had to share the credit.
Piscettios is absolutely right... This season should be a return to the roots of Star Wars (and to the new era of Battlefront). Piscettios has some great ideas about hero specific emotes, weapons, and trooper emotes for a "New Hope" Season too. You should check out the post.
MAY 2020
This month will be a celebration the likes of which Battlefront hasn't yet seen.
We start with the return of a Battlefront 2015 favorite being added to Starfighter Assault...
STARFIGHTER ASSAULT
DEATH STAR TRENCH RUN
This is an essential map from the BF2015 DLC that should return. Few things in Star Wars are more iconic than the Death Star. And this is a tailor-made map for Starfighter Assault.
HEROES
Two new heroes should be added to Battlefront. Both from A New Hope. Both Villains.
GREEDO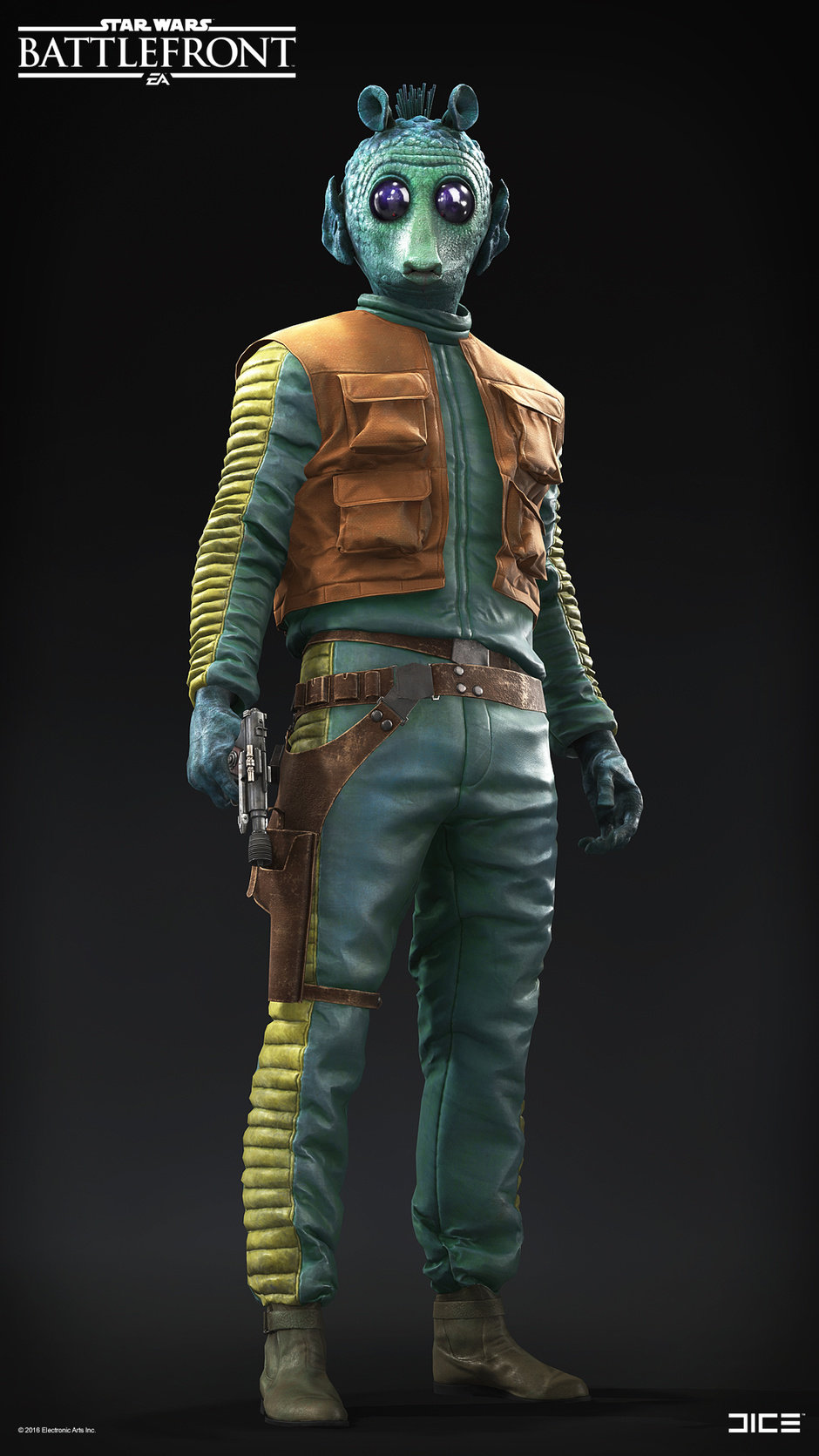 Greedo, who was memorably turned into a crispy critter by Han in A New Hope, should be Returning from Battlefront 2015.
GRAND MOFF TARKIN
Arguably THE main villain of A New Hope, Tarkin would be a fantastic addition to Battlefront 2. Especially after his appearances in Rogue One, Rebels, and the novel "Tarkin".
GALACTIC ASSAULT / CONQUEST
No location is more A NEW HOPE than Tatooine, so what better way to celebrate than to bring back the Tatooine Walker assault map from Battlefront 2015. So let's bring back...
JUNDLAND WASTES (BF2015)
APEARANCES -
Han (classic vest),
Luke (Tatooine robe, Pilot, and Yavin Jacket),
Leia (classic white, hood up and down)
Obi Wan Kenobi (Legendary Skins with Old Ben Voice)
You could make the argument that a "legendary skin" could even qualify as a new hero...
Rebel Officer
An alternative Rebel officer skin straight from ANH
Rebel Depot BF2015
Any map that emulates Docking Bay 94 from A New Hope deserves to come back in this season. Classic iconography. Probably best for a Blast and Arcade map.
EXTRACTION / STRIKE
DEATH STAR BATTLE STATION - EXTRACTION
The Death Star DLC in BF 2015 was a fan favorite, and I'd like to see the second stage make a comeback as an Extraction mission (side note: I feel that Extraction should be absorbed into Strike and maybe this combo Blast/Strike mode is a first step towards that). There was some nice gameplay variation with the addition of a playable R2D2 as playable "cargo" to extract. Whether they make R2 playable again, or if he is on rails like all standard extraction cargo. R2D2lso like to see the Battle a Station R2D2 escort mission expanded upon and included as an operations mission. R2 on the Death Star.
REBEL HUNT
A highly requested addition to Hunt Mode, I think "Rebel Hunt" is a great idea to both expand Hunt Mode and also a perfect fit for this particular season to celebrate A New Hope.
Map—Tantive IV (variation/extension of the Blockade Runner from Death Star II GA) Hunt Mode - Rebel Hunt (Tantive IV. Vader leads stormtroopers against rebels defending the ship. As rebels die they become stormtroopers.
Scenario: Stormtroopers are boarding the Tantive IV in a search for the Death Star plans. Darth Vader is leading the charge (player chosen randomly). Rebels soldiers must hold off the Empire long enough for Princess Leia to stow away the plans on R2D2 and jettison the escape pod. The corridors of the Tantive IV are filled with smoke from burning fires and explosions aboard the ship. VADER and two stormtroopers start the charge. As rebels are taken out, the stormtroopers' numbers grow.
After this 'A New Hope' Season (yes, I know they're not called seasons anymore) I think we should be getting one last blast of clone wars content... With some heroes that folks have been requesting. More in Part 8.
Howdy, Stranger!
It looks like you're new here. If you want to get involved, click one of these buttons!
Quick Links