New Star Cards Suggestions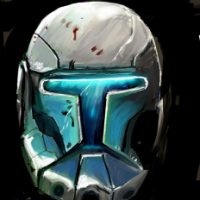 I think just like
@JediPacoElFlaco
made a great post about new blasters since our arsenal is quite tiny, our star cards also need some bolstering up. Most load outs are pretty predictable, and I rarely change mine since you just kind of hit the optimum setup.
Here's some ideas I had in mind:
Assault
Bacta Bomb: Yeah I know, gross. But this time it does not add bonus health, and takes the place of the Thermal Detonator in the left hand slot. Effectively begins healing for 100 HP to anyone in the radius. Heroes in the radius only keep the health temporarily. Upgrades increase radius.

Scramble Dart: Using the dart launcher, it launches a projectile that instead of revealing enemies blocks enemy radar in its radius. Enemies killed in the radius give assist points. Upgrades increase duration. Right ability
Heavy Vanguard: Vastly increases spread and moderately increases damage to the vanguard shotgun at the large expense of fewer shots. Reduces it to 2-3 shots. Upgrades reduce cooldown. Middle ability
Stimpack: Increases Sprint speed and roll regen during time active. Stacks minorly with vanguard speed. Upgrades reduce recharge time. Right ability
Heavy
Plasma Grenade: A timed incendiary device on a smaller scale to the incendiary imploder. Explodes in a moderate radius with light damage and burns with a moderate radius. Enemies continue burning for 2 seconds after leaving the radius. Upgrades increase burn time. Left ability.
Grenade Turret: Deploys Rocket turret, lobs 2 micro grenades in a locked on direction of an enemy which explode on short delay. Upgrades reduce recharge time. Right Ability
Ion Sentry: Deploys Sentry, fires an ionized version of the default Gatling for a brutal burst of vehicle or shield damage. Upgrades reduce recharge time. Middle ability
Barricade Shield: Forces crouch, deploys a wide low shield for a mobile barricade to fire behind. Where the default shield protects your torso, the barricade shield protects your lower half and is wide enough for a second player to crouch beside you. Upgrades increase shield health. Right ability.
Officer
Sniper Turret: Deploys a turret, locks on a much higher distance for a heavy 2 shot burst. Lock-on time at closer ranges take considerably longer. Upgrades decrease recharge time. Right ability.
Chaff Grenade: An air burst capable grenade that does minor damage on explosion and mildly increases ability recharge to anyone hit by cloud of white flashing smoke. Decreases movement speed within the cloud. Upgrades increase duration. Left ability.
Designate Battle Command: A battle command that increases damage to any enemy caught in the radius. Upgrades increase radius. Middle ability
Ray Shield: Deploys a vertical shield wall with higher health than the dome shield, but only protects a hallway sized area. Rectangular shield shape, think Naboo palace hallway. Upgrades increase health. Right ability.
Specialist
Hold-out Blaster: Draws a secondary blaster pistol with very short range, but high damage and moderate fire rate. No cooldown. Upgrades increase aim assist minorly. Right Ability

Precision Infiltration: Draws an EE-3 instead of an EE-4 for a more precise attack. Upgrades decrease cooldown. Middle ability
Shock Mine: A trip mine that stuns you in place for a few seconds with minor damage. Upgrades reduce cooldown. Right Ability
Sonic Charge: Sticky grenade that attaches where thrown and detonates on a timer or proximity for moderate damage. Players hit are vulnerable to increased damage for a short time. Upgrades increase timer. Left Ability
Just some ideas. Any more are welcome!
Howdy, Stranger!
It looks like you're new here. If you want to get involved, click one of these buttons!
Quick Links