Free the Default Blasters!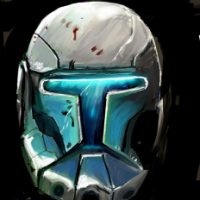 It's nothing new for me to be making another weapons post, but this is year 2 and we still haven't gotten a single new weapon for our troopers.
This would be the simplest approach possible to updating our arms list. Give us variants of each default blaster that does not currently have one. They can be tweaked around for different accuracy patterns, damage, ROF, and allow attachments etc, but it's gotta be simpler than churning out brand new ones. Mostly because the assets are in place and they are weapons we really want to use! They don't need weird gimmicks or secondary fires, just adjustments in different areas for every player to find a sweet spot of what blaster they really like the best.
New weapons would bring such new playability to the game. Probably as much so as a new game mode.
Here's what I had in mind, with the baseline as the default blaster for each class to tweak accordingly:
E-11: Big, bad, but can't hit a sandcrawler from past 100 yards

-Lower default rate of fire moderately, increase base damage heavily, increase drop off to accuracy and range
-Attachments could be: Stock extension, Increased Cooling capacity, Range extension
DC-15A: Decent all rounder, excels at mid range

-Raise default rate of fire slightly, reduce damage by a hair, decrease accuracy bloom
-Attachments could be: Stock extension, Increased Cooling, Increased Fire Rate
F-11D: Incredibly Stable when upgraded; precision tool

-Lower fire rate, but not as much as the E-11, increase damage, but not as much as the E-11, increase range
-Attachments could be: Foregrip, Stock, Higher Zoom scope
E-5: Droid commandos

-Just adjust it the same way the new BX droids have theirs
-Attachments: Improved bolt speed, improved grip, explosive shot
DLT-19: A heavy weapon that can actually hit something without firing single shots

-Keep default fire rate and damage, increase range and decrease bloom
-Attachments: Vented barrel, Increased bolt speed, improved cooling
RT-97C: spray and pray, with capacity to spare
-Raise fire rate to just under the heavy repeater, default damage, increase bloom, reduce range
-Attachments: Improved grip, Increased cooling, Increased cooling (yes two at the same time)
M-45: Vietnam style walker take downs

-Decrease fire rate slightly, increase damage some, increase kick pattern, increase range
-Attachments: Vented barrel, dual zoom, Disruptor shot
E-5c: Suppressionist's dream

-Decrease fire rate heavily, increase damage and range moderately, increase cooling, decrease bloom
-Attachments: Improved grip, improved cooling, improved range
I won't pretend to know what adjustments to make for officer pistols so I'll just list them
RG-4D, DC-17, DH-17, GLIE-44
Valken-38x: the AN-94 of battlefront(hopefully)

-Default damage, reduce accuracy bloom, reduce recoil, but not as low as A280-CFE
-Attachments could be: Burst mode (2 shot burst), Vented barrel, Increased bolt speed
DLT-19x: BF2015 OHK machine returns
-Increase damage dramatically, reduce cooling power to minimum, increase recoil dramatically
-Attachments: Dual power scope, Increased range, Thermal scope (one scope or the other)
E-5s: Finally snipers can go full auto (2003 Clone Wars cartoon for reference)
-Reduce damage to a hair below A280-CFE, reduce recoil, increase bloom, increase cooling power, swap to full auto
-Attachments could be: Improved Stock, dual zoom, Increased Fire rate
The DLT-20A and A180 sniper rifle could also be eligible for variants. That's 17 blasters from existing assets, and it would be worlds of QoL. If they were challenge based you can guarantee players will be playing more than ever to get their hands on them
Something hopefully to be passed along to the team
@T0TALfps
@F8RGE
This is something that can be done without full blown weapon designers, should they be absent for any reason
Howdy, Stranger!
It looks like you're new here. If you want to get involved, click one of these buttons!
Quick Links