Please Remove Matchmaking in EWOK HUNT
Matchmaking in Ewok Hunt is unnecessary and is potentially killing this mode. It prevents players from enjoying what was once a more streamlined, fast-paced & rapid-loading gaming experience by forcing perfectly healthy, full lobbies to split up at the conclusion of every match.
Each resulting new lobby is typically loaded in at half full or less capacity, many times requiring the participation of at least one or more additional players before the next match can begin. Things quickly get worse for the group if just one of them grows impatient too quickly and quits out before the system is able to load any new players in, and before you know it what WAS a full lobby's worth of players who were all happily ready to play again becomes a swarm of discouraged players leaving the game annoyed and needing to figure out what ELSE they'd like to play.
The link below leads to a video that better illustrates what I'm talking about: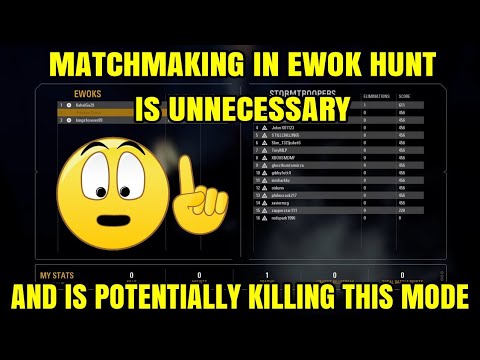 Please take this suggestion into consideration as, personally speaking, it is very frustrating when attempting to complete regularly occurring Ewok Hunt based Daily Challenges that require multiple matches to complete, or to just play for fun in general, only to find that I am regularly unable to find a sustainably full lobby or am separated off into a doomed lobby with eight or fewer other players after one or two successful matches due to the destructive nature of the current Matchmaking algorithm and its constant division of this mode's player base.
Thank you for your time and consideration.
Howdy, Stranger!
It looks like you're new here. If you want to get involved, click one of these buttons!
Quick Links