Anakin Skywalker, an unbiased discussion.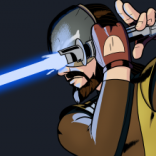 Let's talk about Anakin, all cards on the table, an open discussion on why he is from his very roots a very very broken character in BF2. Personally, I love Anakin's character, more so in The Clone Wars than the prequels (for obvious reasons), so I absolutely want him in the game, just not in the way he has been implemented.

First of all, I would like to address the ridiculous excuse that Anakin should be more powerful because in canon he is the 'chosen one'. I mean come on, I can't believe we even have to have this discussion. The Star Wars canon is great, I love every part of it. But taking that canon and turning it into a well BALANCED, enjoyable game requires its sacrifices. Anakin is the chosen one, he is powerful however, since we are apparently transferring the canon to the T, he was overpowered by Obi-Wan. What do you think would happen if you took BF2's Obi and Anakin and pitted them against each other? Would Obi-Wan even stand a single chance? That's a rhetorical question. So we can drop the whole act about him being designed the way he is because of who he is in the canon. This is a video game, not a movie.

Next, the supposed nerf of Anakin.
Was there even a nerf to begin with? The problem with Anakin's design isn't so much about the damage output of his abilities, but the way those abilities are designed. Anakin has four abilities that can be used repeatedly, even spammed, in quick succession, to destroy literally every single character available in the roster, villains and reinforcements alike. That must change. At the moment, overpowering Anakin requires an extreme amount of separatists surrounding him and even so, if he has heroic might or retribution available (which he will probably have) the opposing team stands absolutely no chance. In the hands of a somewhat capable player, Anakin is absolutely unstoppable. And lets be fair, mastering the use of Anakin is as basic as it goes, there is no strategy required for him to succeed, you simply walk into a room, use heroic might or retribution and walk out. You cannot possibly believe that's fair or balanced.

Lastly, Passionate Strike.
Either this, or Retribution have to be removed for Anakin to be close to being balanced. It's such a strange ability to have, especially for a character with so many powerful abilities to begin with. Passionate Strike doesn't even require a tiny bit of aiming, simply turn in the general direction of the villain and activate it, it will launch anakin forward and track the villain for him. For villains, the only way to oppose Anakin's three other abilities is blocking, and with passionate strike, that option is off the table. It feels like when designing Anakin, the devs deliberately created an unstoppable force in the battlefield that no one could oppose.

Anakin has been released for over a month and a half now if I'm not mistaken. In a couple more months, when everyone has become fully accustomed to him, there will be no Anakin player out there unable to take advantage of Anakin's overpowered design and eventually, people will start giving up. HvV has become a complete hassle, where in the beginning of every match as a villain you have to pray no capable player gets his hands on Anakin and the same goes for CS. It's such a shame that the devs seem to completely disregard the outcry of the playerbase.

What are your thoughts?
Howdy, Stranger!
It looks like you're new here. If you want to get involved, click one of these buttons!
Quick Links