Change the ION grenade card
With droideka joining in the fray, and the new plethora of tanks on the battlefield, I believe the ION grenade will be more important than ever.

The current upgrade path is utterly pointless. Letting the grenade sit on the ground hoping a vehicle will cross over it if you miss is a good idea on paper, but rare to happen on the battlefield. The best upgrade path for it is to decrease cooldown timer with each upgrade. If the time sitting on the ground is so important, just make it permanent; preferably, just leave the timer before exploding low.
For the Greater Good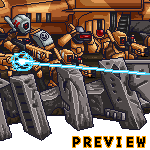 Howdy, Stranger!
It looks like you're new here. If you want to get involved, click one of these buttons!
Quick Links