Can we please get the option to NOT agree to the map found in GA?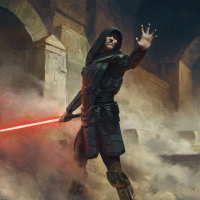 Every time a game ends on a ST/OT map and I get a Prequel map I need to quit to the menu and search for a game again. I am sure that other players have their preferences as well. I also know people who don't really care much and play all maps.

Could we please get a 5 second countdown "Joning GA on Naboo in 5. 4. 3. 2. 1." Press L3 on PS4 (I don't know what other platforms use) to cancel and keep searching for a different game I can join? Without leaving to the main menu?

A map selection would be even better however I understand that the devs are skeptical about that for their reasons. But making me see the map once it already starts loading will not make me go to that map. It will make me quit to the menu and search again. I could change my mind in that time and just leave the game altogether.
Howdy, Stranger!
It looks like you're new here. If you want to get involved, click one of these buttons!
Quick Links