Does anyone else exclusively play Troopers and starfighters in 1P?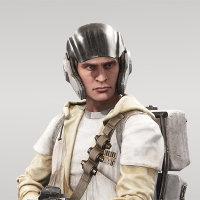 I've always loved playing in first person in BATTLEFRONT games. It transports me directly into the battle, where I feel as if I am my soldier, experiencing what they experience, feeling what they feel, seeing what they see. This immerses me like nothing else into the game. The details of the environment and battle really pop, and nothing looks cooler than glimpsing Death Star debris out of the highly-detailed and scratched cockpit of your Y-wing fighter.

I've seen many people say that first person is a disadvantage, but I honestly am most comfortable when in first. Does anyone else use first person in BATTLEFRONT II, or do you stick with third?
Howdy, Stranger!
It looks like you're new here. If you want to get involved, click one of these buttons!
Quick Links