Ahsoka Tano: The Second Fulcrum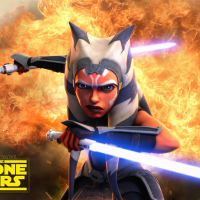 Before i begin, Disney Infinity 3.0 has some examples for Abilitys, Voicelines and Animations for the following Character and is a great Game overall.
Ahsoka TanoSide
: Hero/Light Side
Weapons: Standard Lightsaber + Shoto in Green/Yellow or Both Blue or Both White
Counter
: Ventress
Abilities
:
- Standard Attack: Standard Lighsaber Strike
- Defend: Standard Lightsaber Block
- Left: Lightsaber Spinattack (like the one she used to free herself in the "A Friend in Need" Episode Season 4 Ep. 4)
Ahsoka spins up dealing damage to any enemy in lightsaber range around her. If Dash/Evade Button is pressed m id-air she force launches herself in the given direction, if not she lands at the startingpoint dealing damage to any close enemy around her again.
- Right: Push & Kick Combo( like in the Season 7 Trailer on the LA-AT Gunship)
Ahsoka Force Pushes close enemies straight in front of her away while kicking and stunning an enemy behind her.
- Middle Top: Behind you/Blockbreaker (flip over the Opponent with one or two following strikes at the Back similar to her Jumpattack in the fight with Vader on Malachor in Rebels)
Ahsoka jumps over an Opponent turns around and hits him in the back.
Skins
:
- Default: Season 4-6 or Rebels (white Lightsabers)
- Season 4-6 or Rebels depending on Default Skin (Rare)
- Illum Ahsoka (Rare)
- Scuba Gear Ahsoka (Legendary)
- Wasskah Ahsoka (Rare)
- Season 7 Ahsoka (blue Lightsabers) (Legendary)
- Season 7 Overall Ahsoka (Rare/Legendary)
- Darkside Venom/ Mortis Ahsoka (Rare/Legendary)
- Slave Dress Ahsoka (Legendary)
- Ahsoka with Goggles (Rare)
- Corouscant Underground Poncho Ahsoka (Rare/Legendary)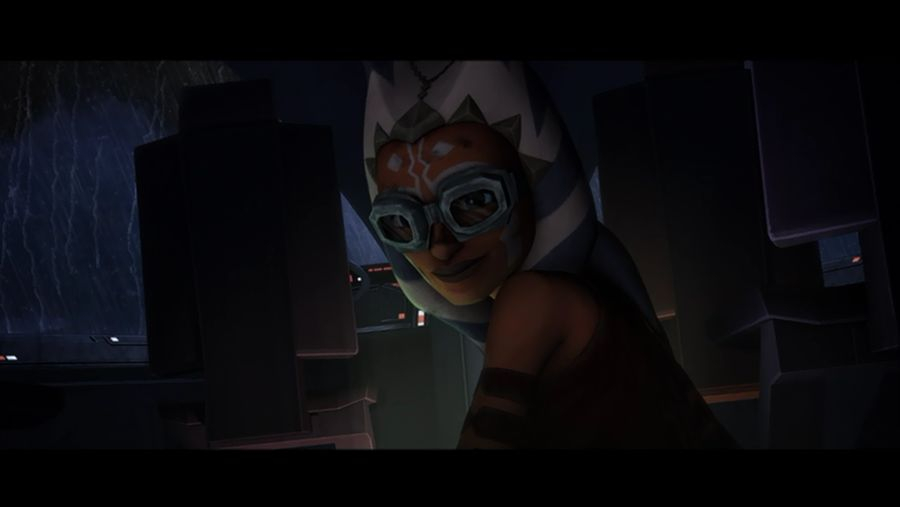 Voicelines
:
- "I`m no Jedi."
- "You`re stuck with me Skyguy."
- "I definitly outrank you."
- "Fighter crashed. I saved the day. You`re welcome."
- "I just fixed it."
- " I wont leave you, not this time."
- "Look at me. I`m not so bad am I?"
- "I have to sort this out on my own."
- "You don`t have to look tough to be tough."
- "Politics are not as black and white as i used to think."
- "Sorry to interrupt your playtime grumpy but wouldn`t you prefer a challenge?"
- "Alright if I tag along?"
Emotes
:
- Matching Emotes for the Voicelines
- Meditating
Victory Poses
:
- Wrong Jedi
- Meditating
- Ready to fight
Announcer Voicelines
:
Clone Announcer: Commander Tano has joined the Battle. Try to keep up with her Brothers.
Droid Announcer: General Skywalkers Apprentice has been spotted, adapt tactics.
Imperial Announcer: Skywalkers former Apprentice has been spotted? No way, our intel says she is dead! Inform Lord Vader, he would want to investigate that.
Rebel Announcer: Lady Tano has arrived. I bet those bucketheads go crazy.
Hero Banter Examples
:
Maul: Lady Tano. Are you ready for a rematch or do you prefer to run like the last time?
Ahsoka: Talking about last time, i remember you begging me to let you drop to your death on Mandalore.
Ahsoka: Ready for a rematch Grumpy?
Grievous: *laughs in Cyborg* With pleasure. Maybe you're a Challenge this time.
Anakin: What are you doing here Snips, i told you to stay on Corouscant.
Ahsoka: Just following your example master.
Ahsoka: I wont leave you Anakin, not this time.
Darth Vader: Anakin Skywalker is dead and soon you will be too.
Ahsoka: Master Yoda? I wasnt expecting to see you here.
Yoda: See your progress personally, i want.
Ahsoka: Just like the old Times on Wasskah, right Chewie?
Chewbacca: *happy roars*
Han: So....you and Chewie know each other?
Ahsoka: Yes....we fought together once....back in the Clone Wars.
Obi-Wan: Ahsoka? You, here? Where is Anakin?
Ahsoka: I know, its weird. He said something about a personal mission.
Ahsoka: Oh hello little one. Who are you?
BB-8: *happy beeps*
Ahsoka: Ventress! This time you cant run.
Ventress: Oh my dear, i wasnt running from you, i simply got tired of playing with little girls.
Why add her?/What makes her unique?
:
The mentioned Abilities would give her a unique Playstyle and she fights with Jar'kai and holds her lightsabers with a unique reverse grip. She is one of the most liked and most important characters in the Clone Wars series and a very important part of the new season 7 and the Rebels series and yet still she didnt made it into the game. She plays a major role in Anakins life and is his first and only padawan, fought the big Villains like Grievous and Maul, overlooked youngling training which only masters do normally, saved Padmes life on Alderaan and had a good relationship with her.
Many players want her as a playable hero. Shes has a completly unique look (shes a Togruta) and would be a fine addition to the collection. It would prove the talent of the team even more. She is the single most important addition to Battlefront 2 for me and i would rate BF2 with 10/10 and would 100% recommend BF2 to all gamers if she would be added. Older Games like Lego Star Wars III: The Clone Wars, Disney Infinity 3.0 and the mobile Game Star Wars Galaxy of Heros already have Ahsoka and her possible counter Ventress as a Character.
There are lots of Mods using new Tech like Meshimporting for PC and Heroconcepts on places like Youtube which shows that Players very much want her to an extend where they even do the devs work to prove its possible. With the new Clone Was Season starting on Disney+ in February it would be a great time to add her.
Ahsoka has, unlike Nien Numb, Greedo, Jyn, Krennic and the Sequel characters including the BB Droids, never been in a proper Star Wars Game ever which is, considering her fame and fanbase, a shame. Her only and good appearance was in a amazing playset of the great game Disney infinity 3.0. It is not acceptable justifiable that two Soccerball droids are considered Heros but Ahsoka isnt. The official Trailer for Clone Wars Season 7 got thousands of likes, retweets and what looks like 100% positive comments. Ahsokas Fulcrum Appearance would have white Lighsabers, i know no one else who have this color. It would be embarassing if the Team could make a Balldroid with barely any screentime from a bad movie like BB9E to an actually good hero but not a 10 seasons and 1 animated movie fanfavorite main character like Ahsoka.
Rey is the only female Lightsaber Character in the entire Game and the Prequel Era has no female Hero at all.
Plus if one would add Ahsoka and Ventress as Heros to the Prequel Era and Chewie and Palpatine to the Sequel Era and excluding Bossk from the Prequel Era, every Era would have 4 Heros and Villains minimum, one for each Member of a Coop Team.
If you build your own costume Lightsaber at Galaxys Edge in Savvis Workshop they name Ahsoka as legendary wielder of a green kyber crystal (and Ventress, showing the red crystal) alongside yoda, luke and qui-gon jinn and if you put a white kyber crystal from dok ondars in the jedi holocron you can buy galaxys edge you only hear different Voicelines from her as far as i know.
The Team would kinda have created the first Live Action Version of her in a videogame (not counting mods of course).
Final Words
: Playing as Ahsoka would be much fun for me. I think she could also find acceptance/love of other players if they are well made and raise awareness that there is more to Star Wars then just Prequels, Sequels and original trilogy, that there are way more, also cool Star Wars movies and TV series` that are worth being watched and enjoyable.
Also if you like what you read please leave a Like, Awesome, Agree reaction and feel free to share this Concept alongside your wish for these character to be added to the game with the developers on the forum and on twitter including the monthly community survey there.
If you have any additional Idea for her in any part or even your own Heroconcept for Ahsoka you can post them here.
For the Eyes some pictures from the Internet of other people doing concepts for Ahsoka with possible Modeldesigns in the Hero Interface. Pretty sure DICE can do it better but i would be fine with this too.
1. Sometimes i wish the Force Arena Mobile Game would still be playable.
2. Posted by leesclem in aminoapps.com from 02/08/19
3. Posted by HawxThy in reddit.com
4. Amazing WIP Mod from Nanobuds on reddit.
https://www.reddit.com/r/StarWarsBattlefront/comments/f66tqu/ahsoka_mod_alt_costume_preview_wip/?utm_medium=android_app&utm_source=share
5. Ahsoka in Disney Infinity 3.0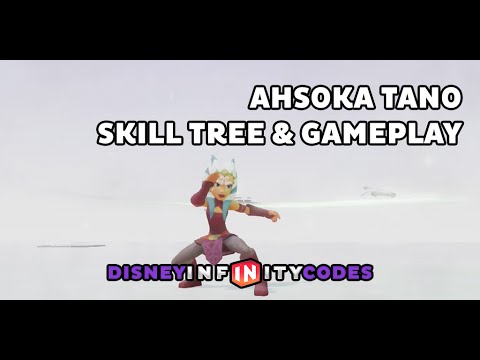 Post edited by Ryu_Tano94 on
Howdy, Stranger!
It looks like you're new here. If you want to get involved, click one of these buttons!
Quick Links