That thing with the hope.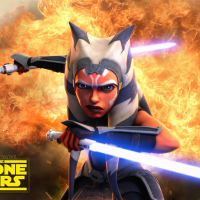 Clone Wars Season 7 comes to an end and with it an amazing animated TV Series. The last Arc about the Siege of Mandalore impress a lot of watchers and even let people count its episodes amongst the if not THE best episode(s).

But what makes me especially happy is to read the very positive opinion many share about Ahsoka including players that share their wish to play as Ahsoka in Battlefront 2 due to the stunning episodes of the Siege if Mandalore arc.

The ball is in your court Battlefront 2 Dev-Team, DICE and EA.

As the Senate says: "DO IT!"

TTwtH: Its over 77k.
Post edited by Ryu_Tano94 on
Howdy, Stranger!
It looks like you're new here. If you want to get involved, click one of these buttons!
Quick Links