Ahsoka Tano: Information about Possible Hints, Teases for her.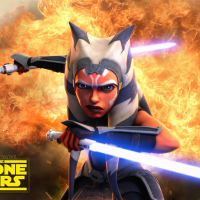 First, if you are interested in Ahsoka being added to the Game as hero or even better are very sure that you want her in the Game, make sure to share your interest/wish with the Developers on twitter, the forum and the monthly Community surveys.

Second, of course there is no prove until we see a Roadmap with her in it but there are experiences on how previous content was teased/hinted towards so one can speculate about certain posts. I mean Guillaume Mroz posted a picture showing a BB8 and a BB9E Cookies he backed with his family stating that "Some friendly droids visited for pepper-whatever it was called" and guess who got announced as a upcoming hero for january later.

So Info for everybody: Dont comment until you have something to share that hints towards her addition, whether its retweets/comments/oddly suspicous posts from Developers or leaks/datamined files or Voicelines you or others found about her in or about the Game or its files. Thats not your generic "talk about everything Ahsoka related even if it has nothing to do with Battlefront 2" - Topic if it isnt obvious enough.

Dont let yourself be carried away by topic changers, ignore them or tell them kindly to discuss their Problems with everything else than possible hints for Ahsoka in BF2 in another or even self created more fitting topic.

To start of the topic itself: Ahsoka Tano is a fanfavorite of the Clone Wars TV series.

In the past heros like Anakin and Obi-Wan got teased by twitter banners and Christian johannessen and guillaume mroz, trooper and hero Designer at BF2 have Ahsoka related banners Christian as trooper designer her fulcrum logo from Rebels the guillaume as hero designer the 1v1 fight between vader and ahsoka also seen in Rebels.

Grievous has voicelines in his files datamined talking to Ahsoka and Padme, dooku mentions asajj ventress in Game indirectly, who is a possible counter to Ahsoka. Anakin says "Ahsoka" directly when you play on felucia in his general Skywalker skin in both coop and instant Action at least, by saying translated from german: "It doesn't make sense to make a list if Ahsoka isn't here." Also if you play as Obi-Wan you might hear him saying: "That would have been a good Training for some of the padawans." which is a reference to the Geonosis arc in star Wars the Clone Wars starting with the Episode "Landing at point rain" where Ahsoka and Barriss Offee meet each other for the first time and went on a mission to destroy the droid factory from the inside together without their masters.

Anakin and Dooku got released February this year and in February next year is their 1 year anniversary and Clone Wars season 7 Starts on Disney+ so it would make sense for DICE from a Business side to release their Padawan/Apprentice and in Ahsokas case one of the main characters of the Season and Major part of the reveal Trailer for the Season, alongside those events.

Dennis Bränvall, who rarely Tweets and if just important things as far as i know and is also franchise designer at ea retweetet an answer to a comment on twitter about Padme coming to bf2 from Catherine Taber, the voice actor of Padme in CW, stating she would be so there shes just waiting for the holocall from ea, commented with "You call this a diplomatic solution?".

Ahsoka and Padme are friends in CW thus it would make sense to add them close together. Grievous talks to both in his datamined files. The devs said there will be a slow Transition away from Clone Wars content, Padme is also in the PT so technically not just CW, so is Ahsoka who is in CW and Star Wars Rebels.

The long awaited CW season 7 comes february next year on Disney Plus. Famous leaker in reddit some_info wrote in february this year she is being worked on. Dice lead animator Mr. Newman (i forgot bis first name) said in an Interview at gamescom i think after the reveal of clone commandos he is working on something big but is not allowed to say more and as far as i know he also made animations for lightsaber Heros. CW Season 7 was originally planned to be released in November 2019 so the Devs needed to finish her for the November Update if they planned a tie-in, which they most likely did, but it got delayed to February 2020. And so may also did her Release.

There hasn't been a Hero announced since Anakin in like February this year, that's 8 month right now. From my experience an announcement came after 6 month and after 8 month the release that's how it was with Anakin, Obi-Wan, Dooku and Grievous at least. That could mean they work either on something big or something more complicated than them, Ahsoka and her possible counter Ventress as well as Sabine and Thrawn and Padme and like Aurra Sing fit at least in the "more complicated than usual" category, if not also in the "big thing" category if they are announced together.

Some Devs are Ahsoka Fans too like many people who have seen CW including me so they would waste a giant popularity gain opportunity i they wouldn't add her. Obi-Wan and Anakin are in the game and there are those subtle hints for Padme and Ahsoka who would complete the holy Prequel/Clone Wars Quartett.

Christian Johannesen retweetet a post on Twitter of the Her Universe Shop for Ahsoka Tano Merchandise. Her Universe is basically a Shop for Clothes and Stuff all about Star Wars founded by the voice of Ahsoka Tano in Star Wars The Clone Wars: Ashley Eckstein

I repeat: He (who is working on Battlefront 2) specifically retweetet a Post about Ahsoka Merch (a longsleeves shirt in orange/blue/white with "Tano" written on it and a scarf with Ahsokas blue/white Rebels Montreal pattern) from a shop found by Ahsokas voiceactress. A shop who describes itself on twitter as a leading fashion and lifestyle brand for fanGIRLS, its dedicated to sell Fandom stuff to women.

Christian Johannesen postet a gif of the fight between Vader and Ahsoka on twitter to someone who asked for everyones favorite starwars moment this decade (2010-2020).

And last but not least all the possible hints and teases other people found and share here in the future.

Feel free to add your discoverys.
Post edited by Ryu_Tano94 on
Howdy, Stranger!
It looks like you're new here. If you want to get involved, click one of these buttons!
Quick Links