Balancing Darth Vader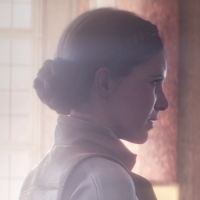 Sup. This thread is about Darth Vader. Yes, the big man himself and how should he work as a fair opponent, but still powerful. Let's start with abilities first, then star cards. Enjoy!
ABILITIESSABER THROW
My, my, it's Saber Throw. First hit deals 150, in total 300 as it hits twice. Definitely decrease the last hit to 50 or less. Also increase the cooldown from 8 to 11 seconds.
FOCUSED RAGE
Currently the ability grants you 200 temporarily bonus health, increases saber damage by +15 and 50% stamina reduction. Vader already has a lot of health so instead of bonus health I would give him 25% damage reduction by default and revamp the card which already grants him it (Will touch on this below). The ability should also increase his damage by 20 over 15, but because of this the cooldown should be increased from 15 to 20 seconds. Stamina reduction is fine.
FORCE CHOKE
Choke should have different damage values against troopers and heroes. That way the ability could be balanced for both infantry and hero modes. In fact all hero abilities should have different damage values between troopers and heroes. Currently the damage dealt by Choke is 86 damage per second, in total 130 as the ability duration is 1,5 seconds. Against troopers it should remain the same, but against heroes I'd lower it to 50 per second, in total 75. The reason why would be so low is because of the recent patch, Vader is now able to block and attack while using the ability. Meaning he can deal damage even more when adding his Saber Throw and regular lightsaber swings, no to forget Focused Rage + can still drag enemies. It also has CC immunity and damage reduction. I would keep the damage reduction (apparently it is being lowered from 75% to 20%
), but completely remove CC immunity.
STAR CARDSFurious Resilience
"Darth Vader receives less damage while FOCUSED RAGE is active."
This card grants Vader 25% damage reduction (at epic rarity) while Focused Rage ability is active. As I said above, the ability should not grant bonus heath, but instead damage reduction only. So for this card I would give new purpose and I have two options:
1.
"Darth Vader deals more damage while FOCUSED RAGE is active, but its cooldown is reduced."
2.
"Reduces the recharge time of FOCUSED RAGE."
(Comment below which one of these you would prefer)
Bonus Health
"Darth Vader has increased maximum health."
Just a slight nerf to the stats towards balance from 50/75/100/150 to 25/50/75/100.
There Is No Escape
"LIGHTSABER THROW travels farther."
This card increases the range of Saber Throw by 50% (at epic rarity). Noting to be touched here.
Punishing Grip
"Darth Vader can CHOKE for a longer time."
This card increases the duration of Choke by 40% (at epic rarity) (40% = 0,6 seconds), in total 2,1. Honestly there's really nothing to touch in this card either
IF
those the changes I mentioned happen.
Surrounded By Fear
"When killing an enemy, Darth Vader gains stamina back."
With this card after defeating an enemy Vader gains 20% of his stamina back (at epic rarity). Nothing to be touched here.
Deflection Stamina
"Deflecting blaster projectiles will drain less stamina."
Decreases stamina drain by 25% (at epic rarity). Nothing to be touched here (Used with Surrounded By Fear it's good for defensive play in infantry modes, perhaps more useful in the upcoming TO Supremacy).
Intensified Lightsaber Throw
"LIGHTSABER THROW deals bonus damage to enemies hit by it a second time in one throw."
Saber Throw deals 150 during when you throw and when it comes back to you. The card adds 40 bonus damage (at epic rarity) for the last hit, in total 190 and makes the full combo 340 which is pretty damn high! (Even higher than Anakin's Retribution) You see this is why Choke and Saber Throw combo is deadly in HvV. Decrease the card stats half from 20/25/30/40 to 5/10/15/20.
Last Gasp
"Darth Vader deals more damage when CHOKING two or more enemies."
Increases the damage Choke deals per second by 50% (at epic rarity) (50% of 86 = 43), in total 193 (Is great for OHK Assaults, Officers and Specialists). I'm not going to tell any details, but just imagine combination of this card with Punishing Grip... And finish that off with Intensified Lightsaber Throw... (The hell is out in HvV). If the Choke changes I mentioned happen this card isn't a problem.
Fueling The Rage
"FOCUSED RAGE has an active duration extended by 6 seconds, but its bonus damage is reduced."
Decreases the bonus damage by 5 (at epic rarity) which is not bad considering the ability duration is extended by 6, in total 16 seconds. Honestly it's fine, but if my changes happened I would change the stats from 11/9/7/5 to 16/14/12/10 to keep it similar to its current state.
Current Topics:
Balancing Darth Vader
Hero ability changes

Xbox Gamertag:
PlayerPurity
Twitter
Youtube
Howdy, Stranger!
It looks like you're new here. If you want to get involved, click one of these buttons!
Quick Links