Just a quick "thank you" to Dice for the immerse Star Wars experience
I`ve been a long time Star Wars fan, ever since my brother called in a favour from the machinist at the theatre Röda Kvarn, 1 day before the premiere the 21 of august 1978 (stockholm, sweden). I was instantly sold on the concept of travelling in space, shooting wildly, using the force and longing for my own X-Wing...
But back in the days there where no way of experiencing the Star Wars universe other then with your own imagination and some Kenner models. After a while we got some LCD handhelds and Coin ups and that was really intense, despite the poor graphics.
A few 38 years later, I´m a grownup and still enjoying Star Wars through books, OT marathons and friends.
Enters EA SW Battlefront Beta.... Whoa! This is what I`ve had hoped for in the previous 2 attempts (not really did it for me, those two) at creating an action packed SW game... and with the amazing graphics to make your eyes bleed from staring at all the details. I had to get the full SW experience and all the old toys, posters, books, magazines and other stuff was collected from the attic and piled in the gamingroom
While waiting for the game to release I prepared myself by playing every Shooter available on the Playstation 3/4 platforms - had to get better at aiming with my sausagelike thumbs.
So the day of release came. Was I blown away or what?
In december we got a patch - lots of nerf and buffs (weaponise, playwise and netwise) so the experience felt almost totally new. Then we got a january patch - same thing again, a new way of playing the game. And every month since, we`ve gotten a new patch which totally changes the way you play the game. But we also get new weapons, challenges and as season pass holders we also get DLCs with even more locations, weapons and Heroes. To me this mean a fresh new SW experience every month -
love it!
Ok, I do NOT like the forced playlist they threw at us in OR, but after a quick talk with DICE yesterday I now know we won`t be seeing a change in that policy anytime this year. Ok, so that`s just something I have to live with... and I can live with that, there are so many other golden things to enjoy in this game.
To me, the game is not about K/D, dead Rancors, bugs or strange choices of heroes - to me it is about running around in a detailed and beautifully rendered Star Wars environment. This game has really brought that immerse Star Wars experience to me - and will continue to do that with the Death Star DLC (despite the forced playlist that most certainly will come with it). I know some of the forumers in here hate how things are not as they want things to be, but after all it is a game and as in real life you probably should focus on the good stuff instead of (in your opinion) the baddies.
Anyway. I just wanted to thank the girls and boys at the DICE Battlefront team for a gem of a SW game.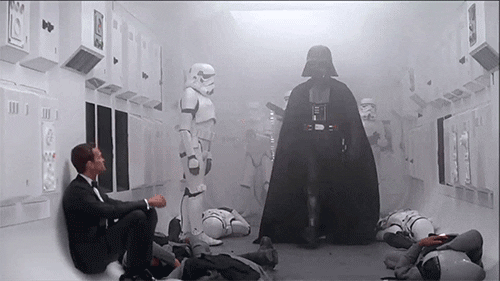 Playstation 4 fun
Proud member of the 3PO community
Howdy, Stranger!
It looks like you're new here. If you want to get involved, click one of these buttons!
Quick Links