⦗General Hera Syndulla / Hero Concept⦘
This is another one of my fantastical Hero concept threads, I made this because I like this character and she would be very cool to play in this current iteration of battlefront.
I'd like if people but their bias's against the rebels series aside and had a decent discussion about this character without bashing the TV show, that'll just lead us no where.
I formed this from Hera's lore in the star wars canon and from various inputs from friends.
Sense this is a hero concept, things are subject to change and will evolve later on in the future, as do all concepts.
________________________________________________________________________________________________________
Hera Syndulla is a Twi'lek General in the Rebellion and natural pilot. She has led the ghost crew on many battles alongside Spectre-1, although she has suffered losses in the past she is able to keep a level head and adept to the situation at hand.
She still continued to inspire all of those around her, becoming a valuable asset to the rebel alliance.
She's quite capable with her Blurgg-1120 blaster pistol and she has her grumpy buddy Chopper to help her out whenever she needs to stir up trouble. She brings out the best in her squad wherever possible, making them believe in themselves to take down the forces of evil.
⦗ BE UPLIFTING, BE HERA ⦘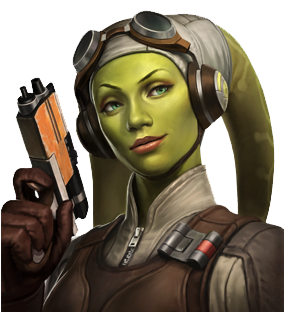 Base Health: 550
Health Regen: 150
Primary Weapon: Blurgg-1120 Holdout Blaster developed by Eirriss Ryloth Defense Tech / It fires about as comfortably as Leia's defender pistol but in quick a 3 round burst that fires about quick as Lando's X-8 Night Sniper. It can fire a maximum of 15 shots before overheating. It basically works like the A280 for the assault class but it fires faster.
It remains as accurate as the Blurgg for the Officer class has and each laser bolt deals 25 damage, head shots deal 55 damage.
Whenever she aims down the sights of her blaster, both of her hands are gripped on the gun, sort of like how in the last game your DH-17 was always in 1 hand in multiplayer but was held with 2 hands by the AI in the missions at all times.
These are star cards that don't require the activation of an ability to be effective.
⦗Passive Star Cards⦘
Strong Will: Hera's base health is increased
[40 / 80 / 120 / 150]
Freedom Fighter: Her blaster does more damage and now can fire even more shots before overheating.
[6 / 9 / 12 / 15] ~ Extra blaster damage
[2 / 4 / 6 / 7] ~ Extra shots fired
Devoted Leadership: Each headshot on an enemy decreases the cool downs on all of Hera's abilities
[1% / 3% / 5% / 6%]
_____________________________________________________________________________________________________________
SIGNATURE ABILITY (L1+R1/LB+RB) / 30s CD /
Phoenix Leader:
Hera uses her uplifting soul and natural leadership skills to aid the healing capabilities of every ally within a radius, giving them the confidence they need to get through the battle.
As you can tell if you've played starfighter assault, this ability plays out very similarly to Tallie Lintra's heal ability.
At a default, she will deploy an AOE healing field around her wherever she goes (Kinda like Finn) and she heals her team mates for 200 health over the course of 4 seconds as long as they are within a 7 meter radius.
⦗Star Cards⦘
Uplifting spirit: Hera can now grant even more heals while PHOENIX LEADER is active
[50 / 100 / 150 / 200] ~ Extra heals
[1 / 2 / 3 / 4] ~ Extra seconds added onto the ability
Rise Together: If Hera has 2 or more allies in the AOE heal, the radius of PHOENIX LEADER will increase
[2% / 4% / 5% / 7% increased radius]
Allegiance: If Hera affects 3 allies or more for at least 2 seconds, then the cool down for the next PHOENIX LEADER is decreased
[10% / 20% / 30% / 40% Decreased cooldown]
_____________________________________________________________________________________________________________
ABILITY (L1/LB) / 18s CD /
Outwitting Burst:
Hera will put in a highly volatile energy cell cartridge given to her by Sabine into her Blurgg blaster pistol that allows her to inaccurately fire a relentless barrage of explosive laser bolts, dealing a high amount of damage for a duration of 3 seconds without star cards.
This basically works like a combined version of the Super Charge Sentry and Laser Barrage the starfighters have.
It fires explosive laser rounds that look extremely energized with an orange color to it.
She remains in place while it's active like Han's Sharpshooter ability, and she holds the blaster straight forward with both hands fire blazing from the vents just to let you know that she's activated it.
Similar to how Finn moves his hands with his Deadeye or Lando making a smooth pose with his Sharp Shot.
When done firing, the Cartridge will clip out on it's own and Hera puts a fresh energy cell right back in her gun, this last for a grand total of 1 second.
⦗Star Cards⦘
Rebel Operative: Outwitting Surge now last a longer duration when activated
[1 / 2 / 2.50 / 3 Seconds]
Inspiring Hope: Whenever Hera eliminates enemies with Outwitting Surge she gains more time to have it active
[.50 / 1 / 1.50 / 2 Seconds]
_____________________________________________________________________________________________________________
ABILITY (R1/RB) / 25s CD /
Back Up Plan:
Hera places down the droid C1-10P, but you can just call him Chopper, and he stills sounds just as grumpy and filled with joy as he's ever been.
He can fly around & smack people with his arm extensions, or he can go in wheel mode and can shoot electric stuns at enemies one by one with his Electro shock prod.
He shocks people every 2 seconds and stuns them for 1 second whilst dealing 50 damage in a very small radius, much like Idens stun droid. If the enemy is a Sith Lord then every 4th stun will give them a stun lock as if they had a light saber block.
If he has his rocket boosters active then he will rapidly swing at his opponents with his arm extensions and stun them for 1 second whilst dealing 9 damage in total from 3 swings. He can go on a swinging spree every 3 seconds on a maximum of 4 enemies.
Chopper is equipped with 650 health at a default and moves around like Krennic's C2-B5 droid from the Rouge One DLC in Battlefront2015 and he will follow Hera wherever she goes.
He has 2 distinct modes, Patrol and Defend, Patrol allows him to roam the map freely looking for an enemy to butcher or annoy, and Defend lets him follow Hera or just be in her general vicinity at all times. Hera can switch between the modes by holding the Melee button on Chopper at any range for 2 seconds.
Hera can pick up Chopper at any time and anywhere if she aims her reticle directly on him and presses the (O / X) buttons, this takes about 4 seconds to complete. If you're successful in getting chopper back he will disappear like a force ghost (Like the heroes in BF2015) and that will commence a 15s cool down in your kit instead of the regular 25 seconds for the ability.
Hera has trait similar to Nien Nunb's turret and Iden Versio's ID-10 seeker unit in the campaign. Whenever Hera earns score of any kind, she can build up her trait bar for Chopper to charge up his rocket booster so he can start flying around and hitting people with his arm extensions, it's only able to gradually build up if Chopper has already been deployed. It takes 1500 score to fill it up in Galactic Assault, and 2000 in Heroes versus Villains.
This trait makes him much more effective now that his DPS is higher and a much harder to hit because of his rocket booster.
"I may have gone a bit too far in a few places." ~ George Lucas
⦗Star Cards⦘
Tech Savvy: Chopper's trait fills up faster when you earn score
[5% / 10% / 15% / 20%]
Droid Conduits: Chopper can now stun enemies for a longer duration with his Electro Shock and Arm swings
[.25 / .50 / .75 / 1 second] (Electro stuns and Swings)
_____________________________________________________________________________________________________________
Here's a few emotes she could have.
"If all you do is fight your own life then your life is worth nothing."
"We have hope that things will get better, and they will."
"Hope is the reason we are going to win."
⦗ XBOX GT: EIusive DJ⦘
~ "
The Knights of Gareth are eternal..." ✔
\⧹If you happen to have ANY ideas for any hero you desire to have in Battlefront 2, Let me know in a DM!⧸/
How to make Every Hero Viable in Battlefront 2


This discussion has been closed.
Howdy, Stranger!
It looks like you're new here. If you want to get involved, click one of these buttons!
Quick Links