Idea's for potential Luke Skywalker buffs.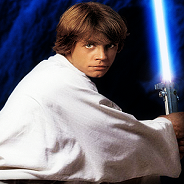 As someone who pretty much only plays Luke when I can I believe I have enough experience with him to talk about what needs to be tweaked
- His movement speed should be increased
Force push and epicenter push people away so some extra speed will allow him to close the gap, also to allow him to reach the flanks faster because by the time you get to the flank, the fight is normally over. He should run the same speed as Vanguard or a little slower.
-Health increased to 750
To help make Luke more forgiving, since unlike Rey with insight, she knows what she will be facing, Luke can easily find himself running into 4 guys and having the extra health will help in making Luke more survivable in those situations.
-Be able to cover larger distance with jump (like in 2015)
If Luke has the best light side hero jump, why not have something to show for it. More time in air=less time moving=more time being shot=more times dead unless...
-Be able to do ONE rush in the air
For maneuverability and only one because I think chaining Rush with Push in the air would be a little bit broken( he would become the new Boba for reaching unreachable places). Also for survivability, combine the Rush Immunity with the fact to be a high moving target, would make him less likely to be blown up.
-His abilities should do more damage but not 1 hit (Force Push and Repulse)
In 2015 1 hit was ok because he only had the Force Push but in 2017 he has Repulse as well and if they both 1 hit infantry I think that will be a little bit too much.
I believe his cooldowns are fine as they are and his starcards pretty good overall. If the damage to repulse gets an increase, perhaps rework Epicenter into reducing cooldown instead.
-Other than lightsabers being able to do more damage or tweaking roll I believe Luke would be in a good place with these changes and will be able to compete allot better in Galactic Assault and Heroes vs Villains
-These are just idea's and I would like to know what you think should be done about Luke.
-One day we will see the Return of the Jedi which is Luke Skywalker, one day, he will be able to compete with the other heroes
And for anyone wondering, my Luke is lvl29 and his best card to epic would be cleansing the darkness
Thanks for reading
(DISCLAIMER. I myself do not necessarily need Luke buffed in order to well, it's just generally harder than most other heroes to well. He is weaker than most of the other saber heroes. I just think he needs some tweaks so he is able to live up to his name and a good starting point would be to look at what made 2015 Luke great, which was his agility, and in this game Rey is faster to go figure.)
Also thinking of making a guide for Luke but that won't be coming until after the patch which is coming Soon™️ as Luke is seeing a buff and changes will affect the guide i.e starcards if his abilities get a damage buff.
Luke main
Post edited by InFernoZ on
Howdy, Stranger!
It looks like you're new here. If you want to get involved, click one of these buttons!
Quick Links