[XB1] - Elite Pilots needed for the Imperial 181st

Sith Empire RemnantsSith Remnant Embassy:
https://battlefront-forums.ea.com/discussion/93676/sith-remnant-xb1-once-more-the-sith-will-rule
Xbox Club Link:
https://account.xbox.com/en-US/clubs/profile?clubid=3379831851791657
Discord:
https://discord.gg/4D7Mhfy
The Imperial 181st are known by all to be the most elite Star Fighter unit within the ranks of the Empire. Once known as the 18-worst after a change in leadership it was known to have rivaled Rogue Squadron. Now today the Sith Remnant announces that our 181st needs pilots!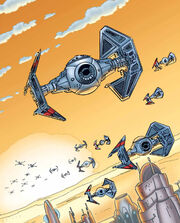 The Imperial 181st is an extension of the Sith Remnant. It is a unit under my direct command (Dark Lord of the Sith of the Sphere of Expansion). My goal is to form an elite fighter cadre that will be the backbone of our efforts especially on Galactic Assault. With an elite set of pilots the skies will always be ours and we will be able to provide outstanding fire support to the ground. Have you ever flown in the sky wanting to do one objective but instead were harried by pests and thought to yourself... if only I had a wingman who could cover me right now? If you signup and meet the requirements then you will have that worry no longer.
Requirements:
Join the Xbox Club, and the Discord
Have a Microphone
Be above the Age of 13
Fully upgraded Starfighter (All Purple Cards for 3 slots in either the Fighter, Interceptor or Bomber)
Do you have what it takes to fly shoulder to shoulder with Empire's finest? To fight the Empire's enemies with skill and precision we expect out of the most elite of our star fighter corps? If you think you have what it takes sign on up. Who knows one day you might become the next Baron of the Empire like Soontir Fel before. But before that day comes you have to earn your first blood stripe!
Once more the Sith will rule... join the Sith today!
Howdy, Stranger!
It looks like you're new here. If you want to get involved, click one of these buttons!
Quick Links