My thoughts on Officer customization
OFFICER CUSTOMIZATION PART 1: UNIFORMS
As often seems to happen, they've painted themselves into a corner with appearances. For the Officer class, this mostly means uniform color, pauldrons, and armor (or lack thereof). Officers' skins need additional uniform color options, armored options at higher ranks, and pauldron options to show rank visually with armor.
So, let's start with the easy ones: simple canon color-swaps that actually create meaningful alternate appearances. This means uniforms. These need tweaks anyway, as one function of uniform color is to distinguish one faction's Officers from its opposing faction's Officers, yet the officers of the First Order and the Resistance (black and dark brown) look pretty similar at a glance. Simply lightening the Resistance uniform a bit would resolve this, but the other color options would help.
The other function of Officer uniform color is to show rank. In the game this can translate to class rank, and serve as a visual badge of achievement. The current default uniforms have only one color per faction, and for some reason the colors chosen are often high-ranking officers instead of low. So, to set up a good Officer customization system, the first task is to change the defaults.
The Clone Officer uniforms in canon are the least diverse, it's pretty much just the blue-gray uniforms we have in game now. However there's at least one other option -- the
Clone Medical Officer
in his grayish-white uniform. This could be the default, and would go well with the healing Command ability that every Officer starts out with. Then the blue-gray
Clone Naval Officer
uniform could be available at rank 20.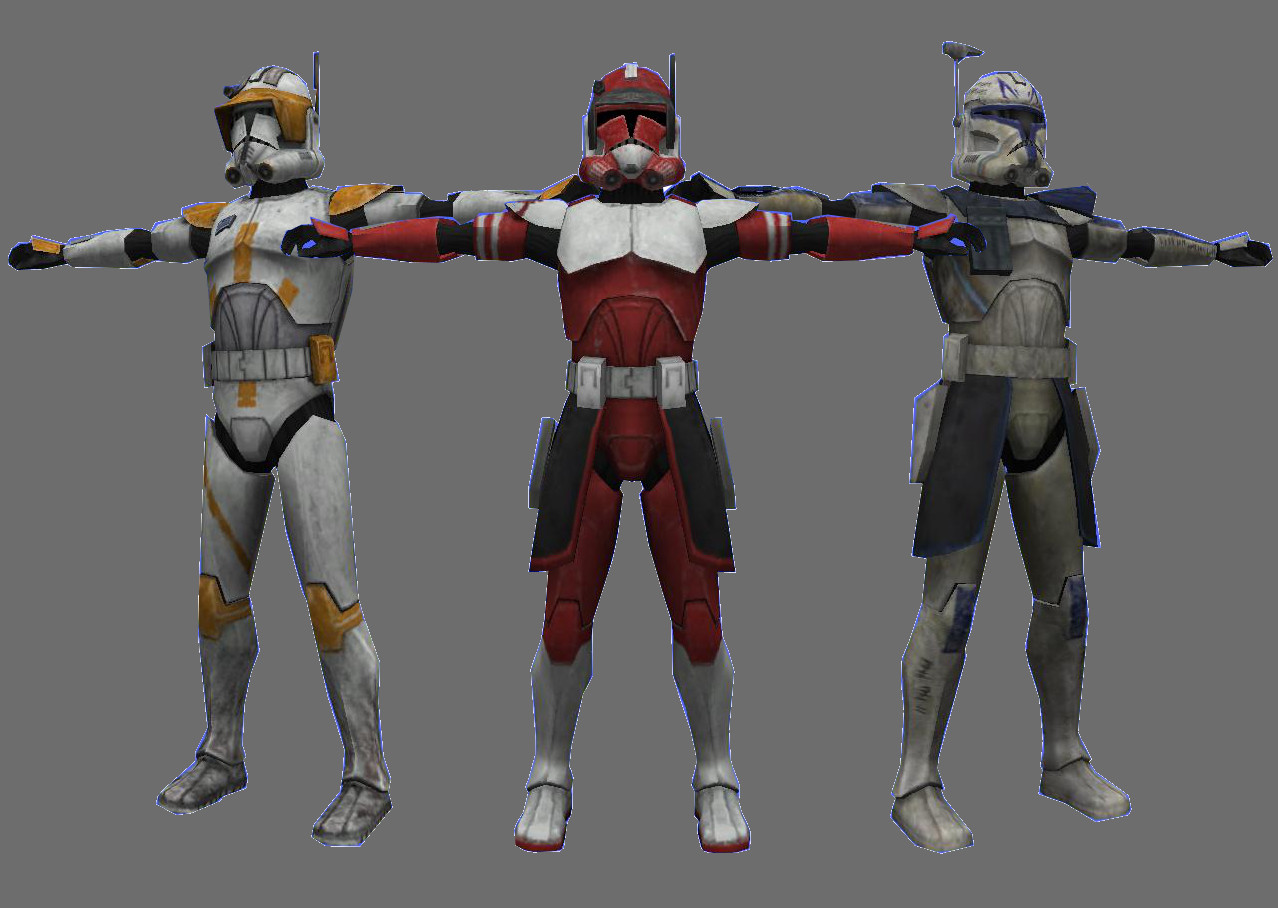 The Droid Officer in canon is also minimally diverse. There's no canon fix that I'm aware of, but one option might be a sort of graduated marking system -- just yellow shoulder markings at first (default), then shoulders and torso (class level 30), then shoulders and torso and the circle on the head (class level 60).
The Imperial default is currently the Navy officer, which is most likely to be high-ranking if found in a ground battle. If the default gray Navy Officer uniform is recolored black, then we have the lowest-ranking Imperial Officer: the
Stormtrooper Officer
, a sort of squad leader, which is a far more sensible default. Make the uniform olive drab, and we have an
Imperial Army Officer
, higher rank than the black Stormtrooper Officer but fairly common to see on the field -- probably available at class level 30. Then finally we have the gray-uniformed
Imperial Navy Officer
, probably at class level 60. (These may seem like large gaps, but I'll be describing plenty of other Officer skins to bridge that.)
Another Imperial option is to include ISB operatives as Officers. The
ISB Officer
in a white uniform jacket with black trousers might be available at class level 50, while the
ISB Commander
in dark crimson might be available at class level 70.
The current blue-and-tan default Rebel Officer skin, like the Imperial, is for some reason the high-ranking option. I suggest an all-tan version of this, the
Lieutenant
, as the new default. Then in the middle tier would be the
Alliance Captain
's uniform, which we've actually seen in-game as Leia's bodyguards in the 2015 Battlefront, perhaps available at class level 30. And the blue-and-tan
Alliance Commander
uniform, wearable by Rebels of Major rank or higher, could be available at class level 60.
The First Order uniform is the only one that is already appropriate for a default -- black uniforms denote a
First Order Squad Leader
, or possibly a Sergeant. A gray color-change gives us the
First Order Captain
, available at class level 30. And a dark teal-blue color-change would give us a
First Order Major
(or Colonel), available at class level 60. And making it dark grey would give us a
First Order General
or Admiral, possibly available at class level 90 if it ever goes that far.
The default Resistance Officer should, I think, be the
Resistance Medical Officer
, in a dark brown vest over a white shirt. After that, a similar skin at a similar level is the
Resistance Lieutenant
, in a tan uniform with a brown vest and a red "dot" insignia (class level 5). A
Resistance Captain
would have an all-tan uniform and a red "I" insignia (class level 30), and the
Resistance Major
would have a light brown vest over a white shirt and a red "V" insignia (class level 60).
These are all simple, easy-to-make skins that even by themselves would give a lot of depth to Officer customization.
OFFICER UNIFORM SKINS
Howdy, Stranger!
It looks like you're new here. If you want to get involved, click one of these buttons!
Quick Links