Doing good as strormies on Ewok Hunt pays big bucks
Whenever you do good as a stormtrooper, which means you rack up some kills and escape, you get some good credits, the highest I have gotten, two times actually is 770 credits on those rounds. So for ayone saying ewok hunt sucks is wrong, it pays better than GA and its 3 times shorter than a GA match, so if anyone wants credits fast, group up with some buddies, attain a heavy machine gun, and you'll be on your way to gettig quick cash easy.
For the Greater Good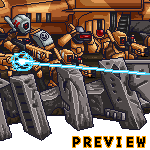 Howdy, Stranger!
It looks like you're new here. If you want to get involved, click one of these buttons!
Quick Links