Hunt Mode Expansion Ideas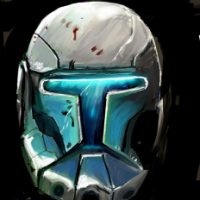 Yes it's me back with more concepts! I have had so much fun with hunt mode I started brainstorming what other places and things could work with how it's been designed as a whole survive the night till extraction type deal and here's what I've got:
Hoth: Lost in Ice


Theme: A Rebel perimeter patrol has fallen through the ice and are now trapped in the dark ice tunnels below. The only light would be from your flashlights or the cracks in the ice above. They must survive long enough for their distress beacon to draw in a rescue team to extract them from the ice. But the cold isn't what gets you. It's the den of Wampas.
Hunters: Wampas
Starting: Rebels

Tatooine: Crash Landing

Theme: A Rebel blockade runner was shot down over Tatooine, and the survivors that jettisoned in escape pods landed deep in the Canyon Lands as the twin suns drop under the horizon. Tusken torches dot the twisting ledge paths that lead in and out of caves. Survive long enough for an extraction team to retrieve your team. The canyons are full of watching Tusken eyes...
Hunters: Tusken Raiders
Starting: Rebels
Dathomir: Left Behind

Theme: General Grievous left your squad on the darkness shrouded battlefield of Dathomir to insure no survivors remained. He was mistaken. Maintain battledroid survival until reinforcements can arrive. Minimal light from the low red sun, flashlights must be used to penetrate the thick mists. It sure is hard to keep track of those quick movers.
Hunters: Nightsisters
Starting: Battledroids

Geonosis: Temple Collapse

Theme: An exploratory Clone squad dispatched to root out the last remaining Geonosian leaders have been stranded underground after a massive cave-in. Left to fend for themselves in the catacombs without Jedi, they must survive until they can be extracted at one of the vertical shafts. Besides your flashlight, the only lights come from the few shafts leading to the surface. It seemed quiet, but something is definitely moving down here...
Hunters: Mind-controlled Geonosians
Starting: Clone Troopers
I'd love to see more come to this game mode, the team definitely nailed it imho. As always feel free to give your feedback as well as your own ideas!
Howdy, Stranger!
It looks like you're new here. If you want to get involved, click one of these buttons!
Quick Links