Rogue One Season Community Transmission Concept Idea
Made by
@Starwarsfanboosk_com
@Piscettios
@Mastahpeece
and me.
The Rogue One Season
Welcome to the introduction of the Rogue One Season inspired by the anniversary of 2 years of the movie Rogue One™: A Star Wars story™.
Fight alongside the freshly born Rebellion to stop the Empire's secret weapon, the Death Star or help the Imperials to stop the Rebel scums and lead your troopers to victory!
The Rogue One Season will be spread across two months, and we've got a lot of content to cover, so let's dive in.
Coming in DecemberNEW HEROES: JYN AND KRENNIC
Reintroducing two new heroes from our last game Star Wars Battlefront 2015 with new abilities and more!
JYN ERSO
Jyn Erso joins the Ligth Side. As skilled with a blaster as she is in melee combat, Jyn charges into the battle and holds out as long as she can taking advantage of her rebellious spirit.
- Weapon: A-180 pistol version (High rate of fire weapon with medium damage)

- Health: 650 / Regen threshold: 200

- ABILITY (R1+L1/RB+LB) / 10s CD / ⦗Rebellious Combatant⦘ - For 12 seconds, Jyn's health regen begins immediately, she also gains the cooling cell effect and gains damage reduction against blasters and explosives, her Regen threshold will also increase to 650 for the time the ability is active.

- ABILITY (L1/LB) / 10s CD for each charge / ⦗Thermal Imploder⦘ - Has the damage and the range of a Improved Thermal detonator, but also blinds enemies, its a charge based ability that starts with 2 charges.

- ABILITY (R1/RB) / Toggle ability /⦗Truncheon surge⦘ - Truncheon surge is a toggle ablity which allows Jyn to user her truncheon which acts similarly to a lightsaber but with a slower swing speed. It deals 150 damage per strike.

- Emotes = ''Maybe we should leave target practice behind'' // ''I'm not used to people sticking around when things go bad'' // ''The time to fight is now!'' // "This is our chance to make a real difference"
Jyn will also be receiving alternative appearances for you to purchase:
INFILTRATION - Epic
EADU SCOUT - Epic
DIRECTOR KRENNIC
The ambitious Director of the Advanced Weapons Research division of the Imperial Military joins the Dark side to stop the Rebellion and support his troopers with his knowledge of weaponry and inspiring them to battle.
- Weapon: DT-29 (Handles similarly to the last game, except with much faster reload time and 8 base bullets)

- Health: 650 / Regen threshold: 200

- ABILITY (L1/LB) / 26s CD / ⦗Astromech Support⦘ - Krennic deploys an Astromech droid equipped with a small Squad Shield. If a Rebel soldier gets too close, the droid will release deadly fire on the ground, Krennic can command where the droid goes by aiming where he wishes it to go and pressing the ability button again, the closer Krennic is to the droid, the faster it's health/shield will regenerate.

- ABILITY (R1+L1/RB+LB) / 16s CD / ⦗Advanced Weapons Research⦘ - Krennic grants all nearby allies an improved bullet effect out of the following options: explosive shot, ion shot, and a DOT effect (the ion shot does not decrease the weapon's base damage).

- ABILITY (R1/RB) / 15s CD / ⦗Wrath of the Empire⦘ - Krennic and all allies around him gain 130 bonus health, damage reduction, faster abilities' recharge time and the cooling cell effect.

- Emotes = "Oh, it's beautiful" // "We were this close to providing peace and security for the galaxy" // "The breaches have been filled, the enemy has been silenced" // "Are we blind??? DEPLOY THE GARRISSON, move!''
Krennic will also be receiving alternative appearances for you to purchase:
SCIENCE OFFICER - Common
NEW MAPS: SCARIF BEACH, THE CITADEL TOWER, SCARIF SHIELD GATE
We are reintroducing the sunny beach of Scarif as one large map supporting Conquest and Galactic Assault.
We are also finally adding the Citadel Tower to the smaller game modes such as Extraction, Blast, Heroes Vs Villains and Hero Showdown.
You'll be able to use the new Shoretrooper skin with the assault class as the default skin for Scarif maps.
We are also adding a new Starfighter Assault map called Scarif Shield Gate to relive the monumental Battle of Scarif. Also supports Starfighter Hero Showdown.
NEW WEAPONS
Coming with this season we are also adding new ways of getting into the Star Wars immersion by providing one new weapon for each class.
The assault class will receive the
E-22
- A weapon that is decent for all situations, and it exceeds at its cooling cell, which takes a lot of time to overheat.
For the heavy class t will be the
T-21
- A slow rate of fire weapon that thrives over longer distances.
And the officer class will get the
SE-14C
- A single fire weapon that has great damage output, a decent rate of fire, but overheats rather fast.
And last but not least the specialist class will be getting the
E-11s
- A fast rate of fire weapon with great damage output.
Also changing the Deathtroopers' main weapon from the DLT-19 to their accurate blaster from the movie the
E-11D
- A variant of the standard E-11 rifle used by the Stormtrooper Corps, the E-11D boasts a stock and a large-bore reinforced rifle to maximize the weapon's intensity and rate of fire. The Empire's elite death troopers use these rifles on a number of missions.
MORE CUSTOMIZATION
One last thing we'll be adding is Stormtrooper customization, we know all of you want to customize your Stormtroopers, but this is a rather tricky subject to what would feel authentic and what it wouldn't, so we'll start off with something simple for the HEAVY class:
ORANGE PAULDRON - Common
BLACK PAULDRON - Common
WHITE PAULDRON - Common
RED PAULDRON - RARE
Coming in JanuaryNEW HEROES: BAZE MALBUS, CHIRRUT IMWE
In January join the liberation of Jedha with the Guardians of the Whills, Baze Malbus and Chirrut Imwe.
BAZE MALBUS
Baze malbus is ready to avenge his home, While Baze may lack the faith, he makes up for it with his assortment of firepower, this rebel tank can soak up tons of damage and decimate his foes with his powerful heavy blaster.
- Weapon: MWC-35 (Highest rate of fire in the entire game with high damage, overheats relatively fast when compared to other heavy blasters)

- Health = 700 / Regen threshold: 200

- ABILITY (R1/RB) / 16s CD / [Single shot mode] - Baze's blaster's lower barrel will collect energy into single shots primed by a pump-action foreguard, acts similarly to the vanguard.

- ABILITY (L1/LB) / 14s CD / ⦗Homing Rocket⦘ - Baze Picks up his SpecForces HH-12 rocket launcher and is able to fire twice before it goes into cooldown, it deals high damage to vehicles and one-shot all troopers.

- ABILITY (R1+L1/RB+LB) / 10s CD / ⦗Guardian of the Whills⦘ - Baze gains 200 temporary health, speed movement increase and the cooling cell effect.

- Emotes = ''You're welcome'' // ''All right, how many do we need?'' // "They destroyed our home!" // ''I fight the Empire now''
CHIRRUT IMWE
Join Chirrut on the battlefield with the power of the force as your guide. Chirrut adds a high degree of versatility to the heroes and is the perfect compliment to his friend Baze Malbus.
- Weapon: Chirrut's Lightbow: Slow rate of fire, fires a single projectile, 130 damage on a body shot, 200 on a headshot, doesn't have a damage drop off.

- Health: 650 / Regen threshold: 350

- Stamina: Rey's level

- ABILITY (R1/RB) / Toggle ability / ⦗Staff⦘ - When toggled on, his primary becomes his staff. It deals 100 damage per hit but can be swung very quickly: Rate of swing 25% faster than lightsaber.

- ABILITY (R1+L1/RB+LB) / 14s CD / ⦗One with the force⦘ - For 10 seconds, Chirrut and allies around him have their health regen starting immediately. While this ability is active, all allies affected by this ability, will be immune to blinding and slowing effects.

- ABILITY (L1/LB) / 15s CD / [Melee combat expert] - Can only be activate with staff, Chirrut's staff gains a 15% swing rate increase. He gains unlimited CD on his ''dodge'' and his staff.

- Emotes = "I am one with the Force and the Force is with me" // "You almost shot me!" // "Are you kidding me? I'm blind!" // "The Force is with me, and I fear nothing''
NEW MAP: JEDHA CITY
You'll be travelling to this sacred location where fools like Chirrut used to live, You'll be able to storm this ancient city in the modes Conquest, Extraction and Galatic Assault.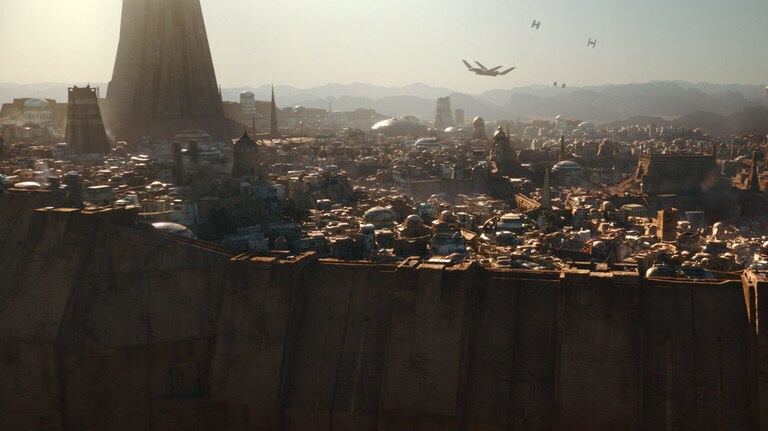 You'll be able to use the new Tanktrooper skin as the default Heavy skin for the Jedha map, as well as play as Saw's partisians.
MORE CUSTOMIZATION
Jyn will be receiving her outfit inspired by her appearance on Jedha:
JEDHA UNDERCOVER - Rare
Your REBEL and RESISTANCE Troopers will also get quite a few new options to choose from:
TOGHNATH - Epic/Assault
GIGORIAN - Legendary/Enforcers (New main weapon - Vulk TAU-6-23 "Blastmill" Rotary Blaster Cannon)
Coming in February
To finalize this amazing season, and bring balance to the hero roster, we'll be bringing 2 of the most deadly bounty hunters the galaxy has ever seen, Dengar and IG-88.
DENGAR
- Weapon: Enhanced DLT-19 (increased damage)

- Health: 700 / Regen threshold: 250
- Melee = Vibroknife (deals the same ammount of dama as Boba's melee)

- ABILITY (R1+L1/RB+LB) / 16s CD / ⦗Maxiumum Firepower⦘ - Dengar's DLT-19 gains the cooling cell effect, increased fire rate and increased damage for 8 seconds.

- ABILITY (R1/RB) / 14s CD / [Job Satisfaction] - Dengar loves being in the middle of a figth, while this ability is active, Dengar receives 40% Damage reduction and 30 health back on a kill.

- ABILITY (L1/LB) / 12s CD / ⦗Hurricane Strike⦘ - Dengar rushes toward his opponents with blinding speed and hits every opponent in the way while also knocking them down dealing 150 damage, when you press the ability button again he swings his weapon foward dealing 200 damage.

- Emotes = ''I'm not just a pretty face'' // ''This is my grateful face'' // ''Like I said, MORE TOYS, HAHAHAHA!''// ''I can hear the credits calling my name, Dengaaaar"
IG-88
- Weapon: Enhanced E-11 (Increased damage output and damage fall off)

- Health: 650 / Regen threshold: 200

- Special feature: Due to his robotic nature, he has a unique health system: Explosives deal 50% less damage, normal blaster fire deals normal damage, and Ion damage deals 25% more damage. However, ion torpedoes and vehicle turrets cannot lock onto him.

- ABILITY (R1/RB) / 16s CD / ⦗DAS-430 Neural Inhibitor⦘ - A projectile launcher that fires one green blast on the ground which lasts for 16 seconds. The projectile creates a 360° magnetic field 7 metres wide. Whoever gets caught in the magnetic field has their movement speed and aim speed decreased, also whoever is inside the magnetic field will lose 25 hp per second. This doesn't affect IG-88 in any way (basically a throwable Palpatine's Dark Aura).

- ABILITY (R1+L1/RB+LB) / 13s CD / ⦗Sonic Stunner⦘ - IG-88 changes his E-11's firing mode to start firing painful blaster bolts that blind, deafen, and greatly reduce the accuracy of anything they touch for 5 seconds. Active for 6 seconds, 60 damage per bolt, 90 per bolt if they are more than 30 metres away.

- ABILITY (L1/LB) / 15s CD / ⦗FlameThrower⦘ - IG-88 starts firing deadly flames from his wrist. Very large AOE (basically the same range as damage with a flametrooper using overload) although it slows down his movement speed sligthly.

- Emotes = ''Bep poop bip'' // ''Bop pip pip'' // ''Bip bip bip'' // ''Bop bop bip''. In that order.
We'd like to thank all Battlefront II players that were a part of the Rogue One Season, the team was very excited to bring Scarif back to the game, but in a more epic manner... and all the positive feedback around this season made it all worth it, but make no mistake, this is only the beggining, we'll continue support of the game past this season, so look foward to March where we'll detail the roadmap of our next season that starts
soon™
.
The Battlefront Community were successful.
Howdy, Stranger!
It looks like you're new here. If you want to get involved, click one of these buttons!
Quick Links