Feedback on the 5th of July
Today was a brilliant day for the Battlefront Community.

Palpatine was removed from the game, so if you spent credits to buy him, was expecting to level him up in the double XP weekend, or used him as your main villain, it's time to be grateful!
Matchmaking came back and started sending people to empty lobbies again, so if you wished to play a game today, be grateful for that!
2x Battlepoints is now a lie, it simply doesn't work, so if you wanted to snatch that hero early on Galactic Assault, now you can't. You should be grateful and rejoice!
The Stamina Patch is in full effect and more details have come that show how well designed it was, like Yoda being terrible on Stamina Management, and Vader being a God. We must all be happy and grateful for that!
We were reminded that the QA team exists and do their job, although Answers HQ has more then a hundred unsolved BUGs and they keep releasing patches that completely brake the game over and over again. Better with BUGs then with nothing, right? Such a grateful experience!
The new Hero Starfighter mode is brand new, yet Missile Locking is causing the game to stutter. I mean, how could we have a Hero Ship mode without a BUG? It wouldn't be BUGFrontII would it? We should be very grateful for that!
Also about the Hero Ship mode, F8RGE said we would be able to play with the N-1 Starfighter yet we can't. I'm sure they're preparing something special for us! I hope it comes with a BUG! If not I won't be grateful for that.
Now everyone has different Daily Challenges to complete, so we can't warn our friends of what's waiting for us in the game! So incredible! Especially when the one you pulled out was about Killing with palpatine, as he was removed from the game. I mean, who doesn't want to not gain 500 credits? Palpatine is certainly grateful for that
The BUG which sends people back to the menu is back! How else would one stop the addiction of playing just one more match? This way we can focus on our jobs and studies. I'm so grateful now I can finish that project for college that SWBFII2017 was not allowing me to do. So Grateful
And of course I wouldn't want to stay playing today, I mean, that famous AFK Farmer is AFK Farming today again! he has been doing this since January! I'm sure DICE lifted his Ban so people got back to what matters in life: your job and your studies. I can't be more grateful for that!

Did I forget something? Today was such a marvelous day for this community. Write what I forgot about today below, and let's all rejoice on this SPECTACULAR day for the battlefront Community!
Tired of BUGs?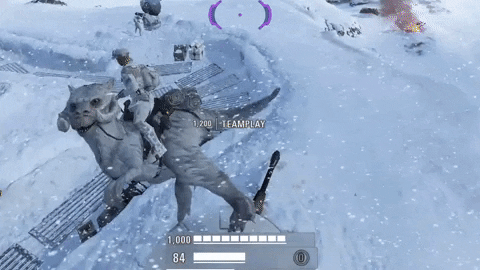 Well, they'll still exist.
But visit the
Rogue Bros Channel
, there we document many BUGs and possible workarounds for them. There's also gameplay and other videos related to EA's Star Wars Battlefront (I & II)
Howdy, Stranger!
It looks like you're new here. If you want to get involved, click one of these buttons!
Quick Links