Mace Windu: A Full Regen Hero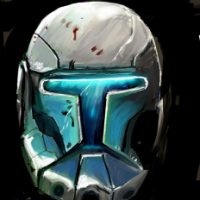 I think a flaw in the balance of GA is that the dark side has Bossk, who some matches can avoid death the entire match, and Palpatine, who is a festering flying disease squirrel that usually never dies either without special effort.
Yes, both of them can be killed and at times pretty easily, but the Heroes in GA generally stay clear of them since you lose a fair chunk of health trying to do so if you are even successful at all. I think the answer is a hero who can full regen the same as Bossk.
-I'm saying Mace Windu because he seems to be the only one that makes logical sense to have this as well as the fact that he's hardcore as one can be. Not to mention he spanked the senate.
I'm not going to go full concept on him like I usually would, but he could have a force wave that throws everyone for high damage in a strictly horizontal radius, shatterpoint that makes enemies take more damage and are revealed to him only, and force crush that flattens everyone to the ground in front of him in a tight cone.
-Maybe his passive regen could be increased while in shatterpoint.
What do you guys think?
Actual image of Mace drinking Palpatears
Howdy, Stranger!
It looks like you're new here. If you want to get involved, click one of these buttons!
Quick Links