Devs, HvV Target System MUST be Eliminated ASAP
Players on this forum have requested the removal of the target system in HvV for many months. The target system encourages running, hiding, camping, exploiting (which very much borders on outright cheating), and all-around cheap tactics.
Please take a look at the following video: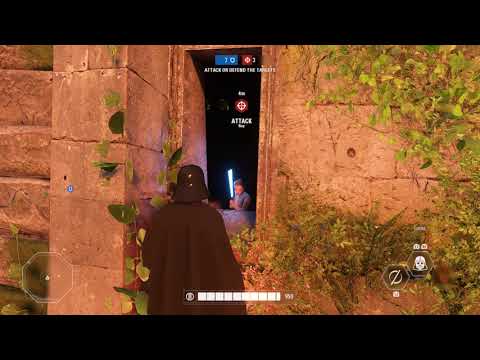 (Disclaimer: I am not promoting exploits. I do not know how to use this exploit. I am simply showcasing the underhanded tactics that the target system encourages)
In the above video you will see that the target hides in an area of Yavin IV within the walls of the temple. They are completely invincible to anyone who does not know how to enter that same area. My friend,
@Landeaux2
and I, were unable to make our way into this location. We do not spend our days searching YouTube for each and every way to cheat our opponents. We believe in fair play and beating our opponents through skill. Running, hiding and exploiting are not skills. They are not strategies. They are, once again, cheap tactics.
The above exploit has been present since the game's launch. It is just one of many that has remained unfixed. Some have been fixed, but plenty of others still exist. For example, the out of bounds area surrounding the castle on Takodana was increased in an effort to prevent players from hiding behind the castle. However, this fix has actually made things worse. There is still a small sliver of in-bounds area where players can hide. If the target reaches this location, it becomes very difficult for pursuers to get to them without dying out of bounds.
Targets who run, hide and exploit really ruin HvV for all players who wish to play the mode straight up. Matches are greatly lengthened, opponents are often forced to chase the target and risk frustrating occurrences like being frozen out of bounds. Also, the exploiter's teammates are left to fight 3 vs. 4 as they attempt to defeat the opposing target.
I could go on and on about all of the exploitable locations and tactics in HvV, but instead I will just get to the point, which is that the target system needs to be completely eliminated from the mode. HvV should be reorganized into a team death match/Hero Blast mode. The first team to 100 kills wins.
The cheap tactics I have mentioned will no longer benefit players who wish to utilize them. They will be forced to fight, or their teams will suffer the consequences. HvV matches should be won via skill, not exploiting. Removing the target system and turning HvV into a team death match setting is the one surefire way to make this happen.
I do not believe that what HvV has devolved in to was the developers' intention. I think they would have scratched this target system idea if they knew how aggressively it would be exploited.
Moderator Notice
Post edited by F03hammer on
Howdy, Stranger!
It looks like you're new here. If you want to get involved, click one of these buttons!
Quick Links