Comment for ARC Troopers to Replace Wookiees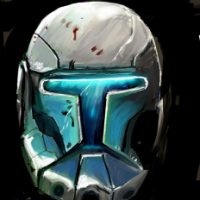 With Geonosis coming a controversial point is also coming to a head: no one really wants Wookiee's on that map. Ideally they should only be the Republic's enforcers on Kashyyyk, or possibly, not at all given that they are also the
only
light side enforcer and if anyone wants to be a Wookiee they'll be on both OT and ST maps.
Originally I said clone flametroopers, others have said galactic marines, others still asked for Commandos. These were all great and valid suggestions until it became pretty clear the sentinel reinforcements got dumped in the toilet. More specifically the ARC troopers.
I mean...
So now they are open out of the sentinel class's abandonment, they should be the #1 candidate.
I don't know if they'd receive their signature WESTAR-M5 or twin pistols, or a modded DC-15S as a primary, and I don't know if they'd keep the thermal imploder or get some other unique explosive device. I do know one thing though-
The ARC's must replace the Wookiee's as the republic enforcer!
Do you agree?
[Removed petition reference]
Post edited by IronSoldier on
Howdy, Stranger!
It looks like you're new here. If you want to get involved, click one of these buttons!
Quick Links