Vardos in multiplayer Concept
Was recently replaying the campaign on a newer account and it struck me how sad it is that such a gorgeous package of assets is simply going to waste, while we get scant new content that has to be worked on much more first
Vardos is a beautiful world created from scratch for the game, with a distinctly somber Imperial aesthetic. Very Star Wars-y
I believe that it would be a suitable, unique map for Extraction (desperately needs more maps) Blast, HvV and Strike.
Extraction
Scenario: The Rebel Alliance has launched a surprise raid on the Imperial Future Leader's Prepatory school on Vardos (first shot above), with the objective of capturing a macguffin vital to the Imperial War Effort (documents about Imperial deployments of high ranking/special forces personnel. Or even an important person/people whether that be Academy instructors, visiting dignitaries or students). Imperial troops must escort the payload (in the form of either a droid, cart or small ground VIP shuttle) from the Academy to the Imperial raider
Corvus
so that it may be spirited safety offworld before the Rebels are dealt with
Essentially follows the same route as the campaign mission "The Storm". Payload starts at the top of the academy stairs with Imperial spawnpoints nearby. Stormtroopers must escort it down through the courtyard and through an L shaped alley (Rebel spawnpoints on the other side)
when they reach the end of that hall, this begins Phase 2. Imperials must then move the payload across the street, up another flight of stairs, through a courtyard and load it onto a waiting AT-AT
Phase 3 then begins which is kind of like a mini 8v8 version of walker objectives in GA. The walker (AI operated only, orbital strike would be too powerful in such a mode) becomes the "payload" and Rebels must attempt to disable it with Ion disruptors as it moves back down the street towards phase 4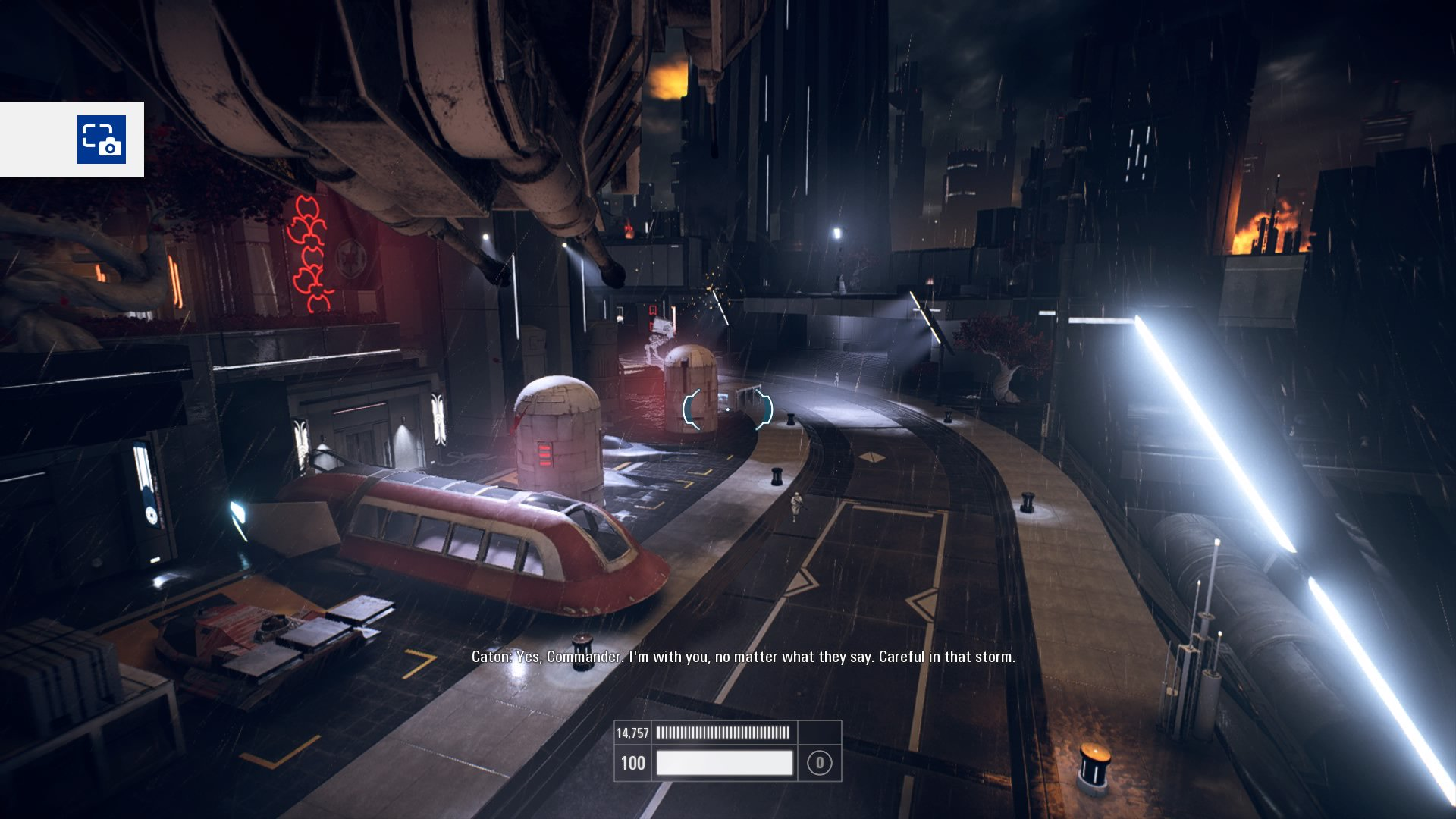 The final phase begins when the AT-AT reaches the gate. The Payload returns to its previous form of card/droid/shuttle and the Imperials must escort it down through a depot area and up the ramp onto the
Corvus
to claim victory
This map will have no enforcers or aerials. They will either be omitted entirely in favour of troopers only, or be replaced by 1 fixed hero per phase (only GCW era, and same one every time chosen for what is most suited for balancing reasons) that does not respawn when defeated, ala the same mode in Battlefront 2015.
For the hero choice hypotheticals I'd go P1 Iden/Luke, P2 Bossk/Leia, P3 Boba/Lando and P4 Vader/Han as I believe this is the best suited setup for making the specific phases in question progressively easier to harder for the Imperials to clear.
They could also flip the scenario and have the rebels escort a payload to a Corellian corvette using a stolen AT-AT, but IMO using the Corvus is easier as it's already on the Campaign map in unaltered form.
As for other modes, I won't elucidate at length as I think they're pretty straightforward. The final depot area with the
Corvus
would be suitable for Blast, HvV and Strike (so long as the top of the ship and other problem areas were made off limits to flying/force sensitive units). Add some destroy/escort objectives for strike in a suitable location and done
The courtyard in front of the imperial academy (pictured at top) would also make a suitable HvV or HS map. The close spawns would favour the disadvantaged lightside who tends to perform better on maps where they can't be split up as easily, and would also discourage runners.
Any thoughts or concerns relating this idea? Also
@F8RGE
could you potentially pass this idea up as if workable I think it'd make a relatively lower workload concept (than creating from scratch or porting from 2015) for a potentially great set of map content.
Howdy, Stranger!
It looks like you're new here. If you want to get involved, click one of these buttons!
Quick Links