HvV Balance since the Chosen One update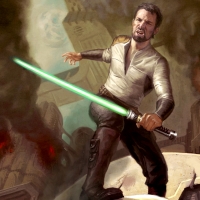 Since the chosen one update yesterday, I'd estimate that I have played about 25 matches of HvV. Out of those 25, I have only seen the villain team win 3 times. In all but 4 of those 25 matches, the Anakin player was at the top of the leaderboard at the end of the game, the other 3 times the top character on the leaderboard was Boskk, Han, or Yoda (played by myself all 4 times) while the Anakin player was #2.

Anecdotal evidence I know, but methinks perhaps the balance might be broken by this update. Anakin and his Heroic Might seem to be the main culprit for the broken balance, as I keep running into people that don't seem to know not to attack Anakin while it is charging, allowing him to build it up to max damage and wipe out a whole team at once. Obi-Wan and his 10 second 80% damage reduction is the secondary culprit for the broken balance I'd say.
Post edited by ZephanUnbound on
Howdy, Stranger!
It looks like you're new here. If you want to get involved, click one of these buttons!
Quick Links