Penalties for rage quitters.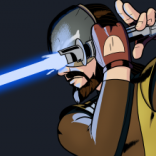 I don't understand why this doesn't exist. Penalties in the form of matchmaking banning for short periods of time for example, need to be implemented ASAP. Just five minutes ago I was thrown into a match in HvV and as soon as the match started, 2 of my teammates quit. The funniest thing about it is that it happens mostly when I get to Anakin first.

Anyway, I decided to stay in the match with the other teammate left, maybe wait around for someone to jump in. Cut to a minute later when my other teammate leaves. So i'm left to fight off 4 villains alone. I managed to hold them off for long enough, and just when I was about to lose with my last life, 3 people joined and we managed to turn a 1/10 into a 1/5.

Even Rocket League punishes match quitters EXCEPT for when the score gets too high to combat.

This stuff happens every day. Do something about it.
Howdy, Stranger!
It looks like you're new here. If you want to get involved, click one of these buttons!
Quick Links