Asajj Ventress Hero concept
Asajj Ventress is an amazing villain from the Clone Wars, her self-praising attitude and Courage are two of her defining traits. Her two best known ones are her lightsabers. I think Ventress would be a great addition to the Battlefront along with my Ahsoka Tano concept here:
https://battlefront-forums.ea.com/discussion/149488/ahsoka-tano-hero-concept#latest
I would love to see Ventress in the game as she would be an awesome sight to see among the sand of Geonosis, or even the halls of Kamino. Overall she would be great and I think other people want her in the game. Here are my ideas for her: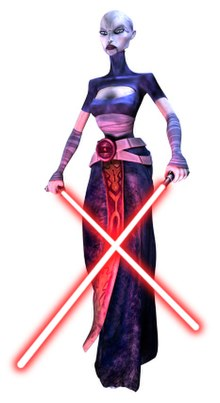 Base health: 725
Base attack damage: 90
Base attack damage (Rear): 90
Base regeneration pool: 350
Her abilities would be:
(LEFT): Evade - Asajj performs a leap and can easily get away from an enemy quickly, this is different from dodging and if you use the thumbstick correctly you can leap over an opponent's head and land behind them. 2 uses
8 second recharge
(RIGHT): Force Choke - Asajj Force chokes enemies within a 50 degree radius and then slams them into the ground. She may move her enemies while force choking them, the force choke lasts for 3 seconds. Force choke does 10 damage per second, the slamming into the ground deals 50 damage.
25 second recharge
(MAIN): Taunting - Asajj taunts an enemy hero, that enemy has 2% stamina usage increase and cannot use their abilities for 5 seconds.
1 minute and 15 second recharge
Her various star cards would be: (I don't have any names for these)
You get one extra Evade with slightly increased recharge time. 4 sec (lvl 1) 3 sec (lvl 2) 2 sec (lvl 3) 1 sec (lvl 1)
Recharge rate is reduced for all abilities 5% (lvl 1) 10% (lvl 2) 15% (lvl 3) 20% (lvl 4)
Increased max health
Increased max regen
Taunting effects a larger radius of enemies
Force Choke deals 5% (lvl 1) 8% (lvl 2) 12% (lvl 3) 15% (lvl 4) more damage
Reduced lightsaber stamina usage
Asajj deflects blaster bolts faster and more accurately, but uses more stamina 20% (lvl 1) 15% (lvl 2) 10% (lvl 3) 5% (lvl 4)
Her different skins would be:
Rare:
Epic:
If Asajj were to be added to the game I am sure DICE would want to change some of the stuff I have said here in my concept idea. Please comment your ideas and questions and thoughts and stuff below.
Yeah, you know who I am...
Howdy, Stranger!
It looks like you're new here. If you want to get involved, click one of these buttons!
Quick Links