Last Jedi Question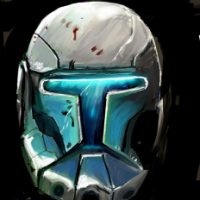 So. Why do all the dark side users we've seen in the movies always have the trademark yellow eyes and pale skin denoting they are consumed with hate and pain, but Kylo Ben and Supreme Snorkel have basically no traits of dark side corruption? Big Snork even has some baby blues so I want to know what's up.
Examples:
Darth Maul

Anakin(turned Vader)

Darth Sidious
How come the sequels are so preachy about those 2(now 1) being raw evil and unchallengeable, yet they show no signs of even being a dark side practitioner?
Howdy, Stranger!
It looks like you're new here. If you want to get involved, click one of these buttons!
Quick Links