[Poll] Who do you think the villain of a Kenobi movie would be?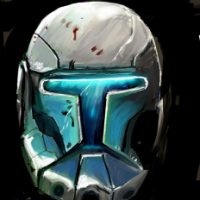 I've been thinking about how much I'd like a
Kenobi
movie, and something dawned on me. Who'd be the villain if he exiled himself to Tatooine?
Take your pick of what you think:
strawpoll.me/15279859
My speculation and reasons:
Commander Cody: Since he was highly suspicious Obi-wan survived order 66, I think it's reasonable to believe he'd follow any trail he left to finish the job under the imperial banner.
Hutts: Maybe Jabba wants in on the action?
Bounty Hunter: Cad Bane had significant beef with Obi-wan, maybe he wants to settle the score? Or Fett?
Rogue Jedi: There was an important story arc in legends of a rogue Jedi who rejoined his Sand People family after Order 66 who became extremely hostile to Obi-wan.
Inquisitor: They were around and would be a threat to Luke?
Grievous Reborn?: What if someone rebuilt him completely as a droid that sought out a grudge match to prove he was better than when he was partly organic?
Let me know what you think because I have no clue what to expect in way of a villain if we finally got Kenobi in the future.
Howdy, Stranger!
It looks like you're new here. If you want to get involved, click one of these buttons!
Quick Links